How Much Does a Stairlift Cost?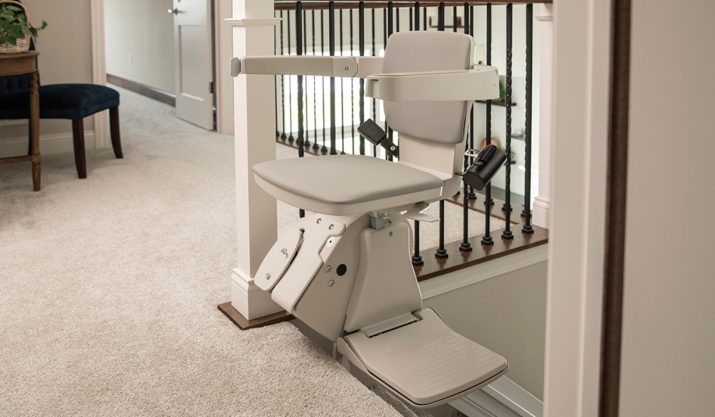 Ready to know right now how much your stairlift could cost? Use our stairlift pricing tool to find out!
As you age, you may have difficulty moving about safely in your home. This may be especially true if you develop a medical condition that limits your mobility. Using 2016 Behavioral Risk Factor Surveillance System (BRFSS) data, CDC scientists determined nearly 40% of individuals age 65 and over suffered from a disability, and roughly two-thirds of those individuals experience difficulty climbing or walking.
Such statistics are shocking, but fortunately, stairlifts, mobility devices consisting of a motorized chair attached to a straight or curved rail, can help seniors move safely from one level of their home to the other without worrying about falls.
Stairlifts are steadily becoming more popular around the world, but many seniors are concerned about the cost versus the value. If you are considering installing a stairlift in your home for yourself or your loved one, keep the following information in mind when estimating your stairlift installation cost.
Estimated Stairlift Costs
Straight stairlift: $2,800 – $3,200
Straight stairlift with add-ons: $3,200 – $4,200
Curved stairlift: $9,500 – $12,500
Curved stairlift with add-ons: $11,500 – $15,000
Straight outdoor stairlift: $4,100 – $6,000
Curved outdoor stairlift: $11,500 – $15,000
Straight vs. Curved Stairlifts
In general, there are two types of stairlifts available for purchase.
Straight stairlifts, as their name suggests, are typically installed in homes with a straight staircase with no curves or complex architectural features. They are the cheaper of the two types of stairlifts to install. Straight stairlifts cost between $2,800 – $3,200 for basic models. However, with popular add-ons, such as a power swivel or a hinge rail, you can expect to spend $3,200 – $4,200.
Curved stairlifts are also available to buyers. These stairlifts are designed to go up and down curved staircases, which tend to have more twists and turns. This makes them more difficult to install, so most of the time, they are more expensive than straight stairlifts due to the parts and time of installation. Just as with straight stairlifts, the actual cost of a curved stairlift will be heavily dependent on its brand and the add-ons selected by the customer. On average, the cost of a curved stairlift is $9,500 – $12,500 for a basic model. With add-ons, the cost is more likely to be $11,500 – $15,000.
Outdoor Stairlifts
If you have a staircase outside, luckily, there are outdoor stairlifts. Outdoor stairlifts allow mobility-impaired seniors to enjoy nature and outdoor recreational activities. Since they require more labor than indoor stairlifts, you can expect to spend between $4,100 – $6,000 for a straight outdoor stairlift, and $11,500 – $15,000 for a curved outdoor stairlift. Again, these prices are just estimates as your stairlift cost is tailored directly to your needs.
Keep in mind, however, that location for outdoor stairlifts is also very important and could affect maintenance costs. For example, if you live in a hot climate, this could cause sun damage to the stairlift. Or, if you live near a beach, the salt in the air could cause corrosion. You should be clear when speaking to a stairlift specialist as to the climate and environment that you live in to give you a better understanding of costs and additional upgrades that can be made to protect your stairlift.
Add-ons and Accessories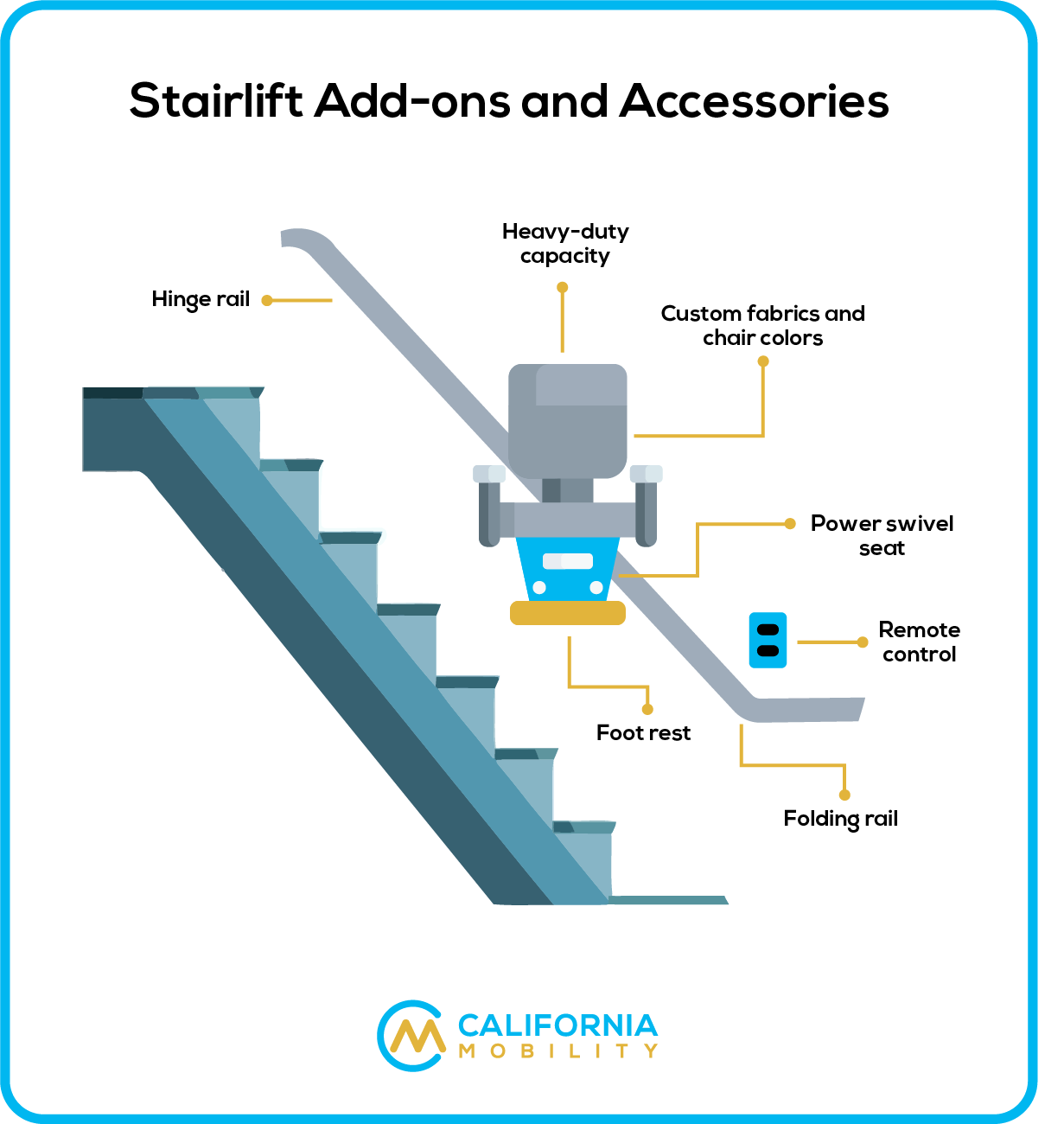 Stairlifts can be customized to fit the needs of homeowners, and often, a variety of add-ons, safety features, and other options are available. When purchasing a stairlift, individuals may be able to add on the following options:
Heavy-duty capacity
Hinge rail
Folding rail
Power swivel seat
Custom fabrics and colors for the chair
Footrest
Remote control
There may be additional options available from some manufacturers. Additional features, however, can add a personal touch to your stairlift and increase your level of comfort for both indoor and outdoor stairlifts. They can also increase the average cost of the product.
Is Professional Installation Necessary?
Lured in by the promise of lower costs, individuals may attempt self-installation. Installing a stairlift on your own can be considerably less expensive upfront than hiring a professional, but it doesn't come without its set of risks. Although you may think you'll save money, self-installation can carry the following drawbacks:
If the stairlift is not installed properly, it could lead to more harm than good. Not only can it be dangerous to the user, but it could also cause damage to the property.
Servicing or repairing a chair can be more expensive as owners will be expected to find parts on their own.
To correctly install a stairlift, the installer must have some degree of mechanical knowledge.
Many seniors even end up spending more in the long run after incorrectly installing a stairlift in their homes. This should be kept in mind when choosing a stairlift.
Professional installation, which is safer and more effective overall, usually costs an average price of $2,000, depending on the business you purchase from. However, at California Mobility this price is included in the overall cost of a stairlift instead of being tacked on separately. This makes the total price lower for the top quality you receive.
Repair and Maintenance Costs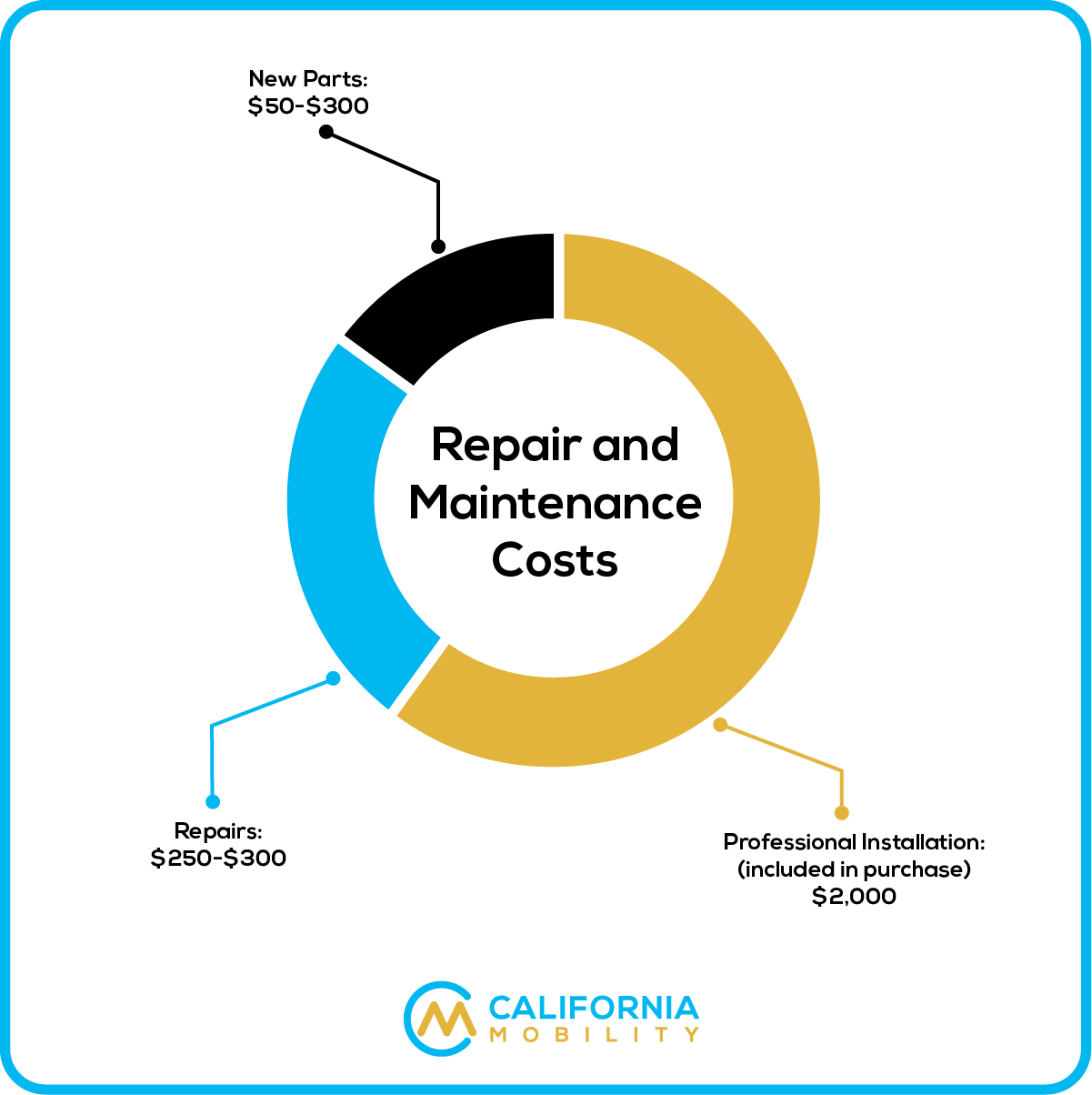 When considering a stairlift, homeowners should also factor in possible maintenance costs. Installation costs are typically included in most quotes, but over time, routine fixes, as well as new parts and batteries may be needed. An average repair costs between $250 – $300 and new parts can cost between $50 – $300.
Estimated Stairlift Repair and Maintenance Costs
Professional installation: Included in purchase – $2,000
Repairs: $250 – $300
New parts: $50 – $300
Some repairs and maintenance aren't necessary for a stairlift technician to come out and fix, such as a common error code. This fix is minimal as turning off and turning back on the stairlift can sometimes resolve the issue.
Other repairs such as installing new parts should be done by a professional to ensure they are in proper working condition. This also gives the technician a chance to see if there's anything else that needs repairing or maintenance on your stairlift.
Depending on the company you purchase from, maintenance assistance could take 24 hours to a full week.
Warranties
Authorized stairlift retailers typically carry warranties on the products they sell and install, but there is no set standard on what these warranties cover. When you're making a purchasing decision, you should ask your retailer about any warranties available, including if they are free with purchase, the length of time covered, and which components of the stairlift are covered. This information can help you choose the best stairlift for you and your specific needs.
Stairlift manufacturers also offer warranties on their products when they are installed by authorized retailers. These warranties can vary greatly depending on the manufacturer and the model of stairlift, and some warranties cover longer periods of time than others. Below is warranty information on the most popular brands of stairlifts.
Bruno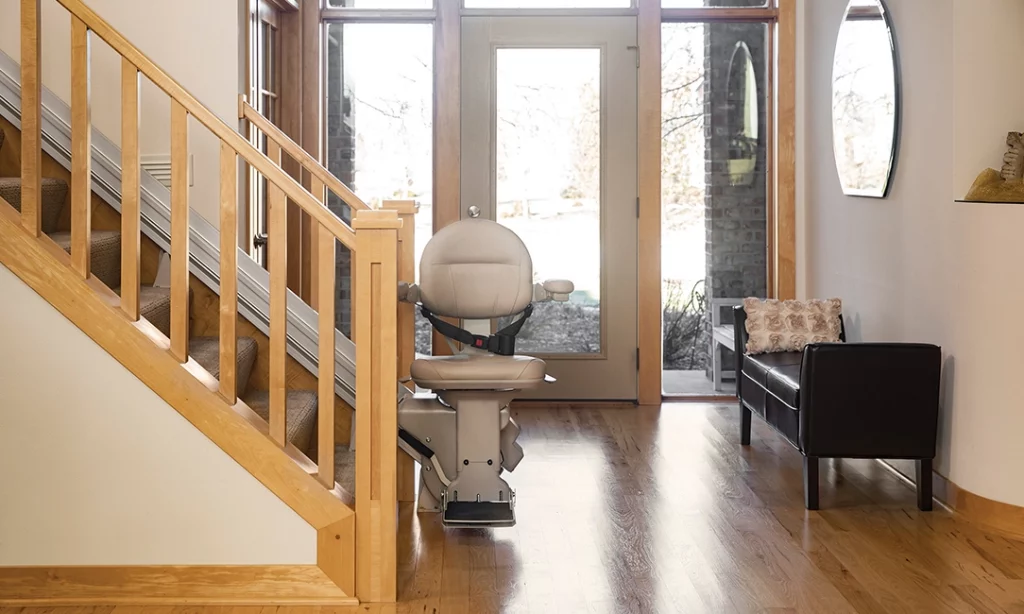 When you purchase a Bruno indoor straight stairlift, you receive a free, limited lifetime warranty that covers major components, including the motor, drivetrain, gearbox, and rail. This warranty is in effect for as long as the original owner continues to own the stairlift.
All other components are covered under a two-year warranty when the unit is installed by an authorized Bruno dealer. There is also a 30-day warranty for labor after installation for manufacturing defects.
Curved indoor and outdoor stairlifts include a free five-year warranty that covers the motor and gearbox, along with the same two-year warranty and 30-day installation warranty provided with straight models.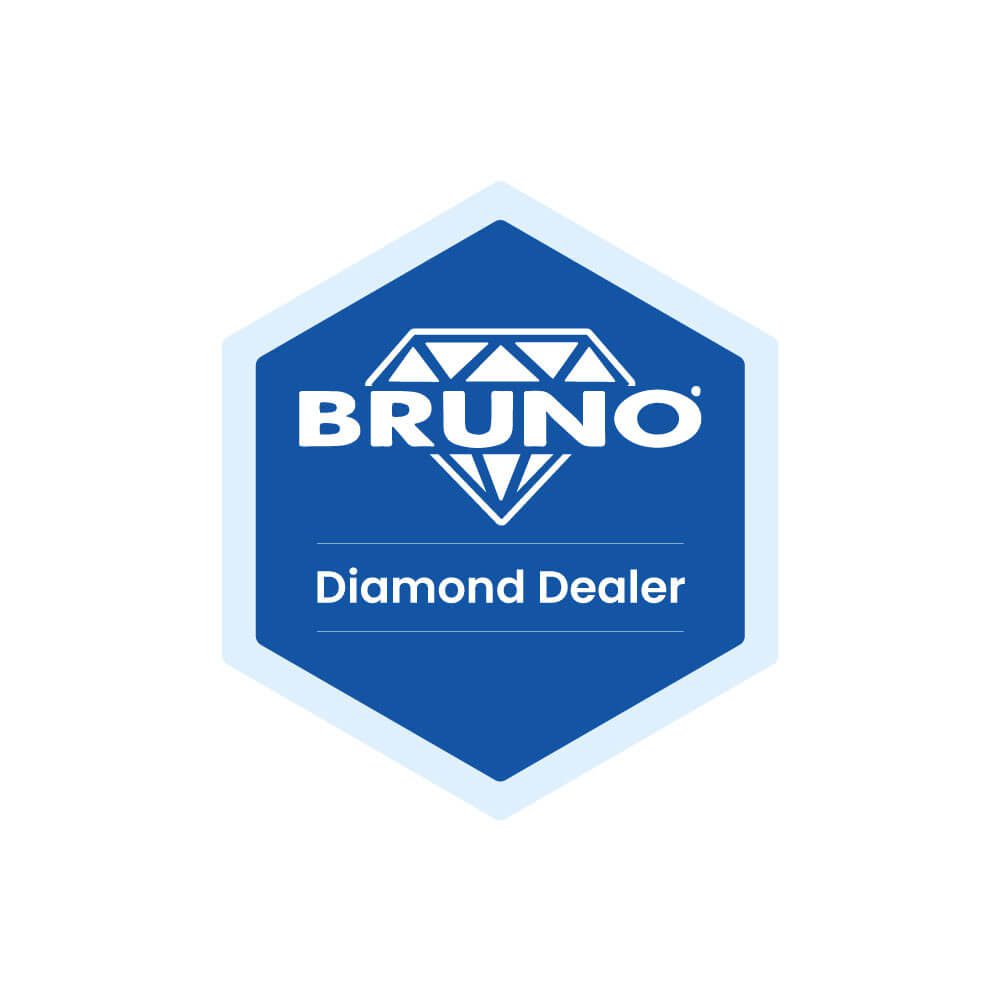 California Mobility is proud to be recognized as a Bruno Diamond dealer, awarded to the top 3% of Bruno stairlift dealers worldwide.
Acorn
Acorn stairlifts include a standard one-year warranty that covers parts and labor. This warranty includes a service visit with a 25-point check of your stairlift's major components, which you can schedule toward the end of the first year that you own your new stairlift. Acorn also offers extended warranties and annual service agreements.
This warranty also states that the company commits to making service visits within 24 hours of being notified of a problem. This commitment is in effect 365 days a year.
Harmar
Warranties on Harmar stairlifts vary greatly according to each stairlift dealer's policy. These range from comprehensive limited lifetime warranties to two-year warranties, and they are not transferrable.
Examples include:
The SL300 includes a two-year warranty that covers defects in materials and parts, not including labor. This model is also not covered for commercial or outdoor use.
The CSL500 Helix curved stairlift includes a two-year warranty that covers materials and mechanical defects, not including labor. Other parts and electrical components are covered for two years, and batteries are covered for one year.
The SL600 includes a comprehensive, limited lifetime warranty covering materials and mechanical defects in the motor, gearbox, rail, gear rack, and worm gear. Other parts and electrical components are covered for three years.
Handicare
Handicare's indoor stairlifts include a 10-year warranty that covers the motor and gearbox for any defects in materials and workmanship. There is also a two-year warranty that covers defects in materials and workmanship for the other components. These warranties only apply to the original owner.
Handicare's outdoor stairlifts include a 5-year warranty that covers the motor and gearbox for any defects in materials and workmanship. There is also a two-year warranty that covers defects in materials and workmanship for the other components. These warranties only apply to the original owner.
Ameriglide
Ameriglide stairlifts include a 5-year warranty that covers the motor and gearbox, gear rack, and pinion gear. There is a two-year warranty for other components, including the circuit boards, and batteries are covered for 30 days. These warranties only apply to the original purchaser.
Stannah
Stannah stairlifts include a 10-year warranty that covers the motor, gearbox, and rail. This warranty only applies to the original purchaser. This warranty also provides access to a call-out service to expedite service calls. This service covers labor and parts.
Purchasing a Used or Reconditioned Stairlift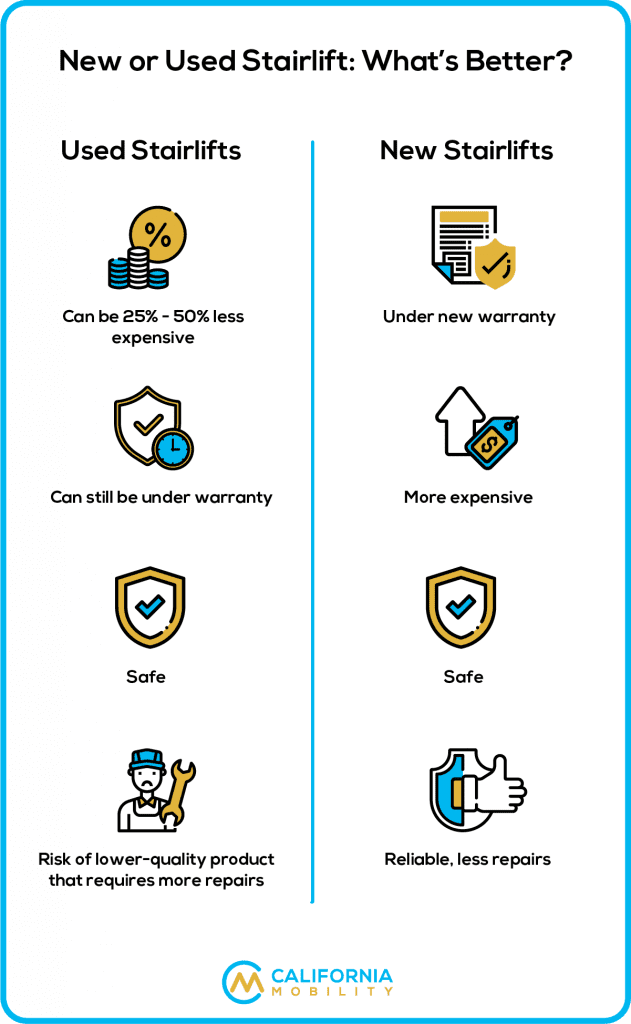 When answering the question "how much does a stairlift cost," individuals might consider whether they want to purchase a new or used stairlift. Contrary to popular belief, it is possible to lower your costs by purchasing a used or reconditioned stairlift. Many of these stairlifts have been reconditioned to factory standards and properly inspected to ensure they are safe, and although they are used, they may still be under warranty when purchased from a reliable source.
Consumers who purchase used stairlifts can expect to spend 25% – 50% less than those who purchase new, and without installation, consumers can expect to spend $500 – $1,500 on a used straight stairlift. For many seniors, purchasing a used stairlift is a great way to get a stairlift at a relatively low price.
Unfortunately, there are many suppliers of used stairlifts who take advantage of consumers by selling low-quality products that will not last. This means they acquire more revenue in the repairs than the overall purchase. That's why it's always safer to go with a new product with a new warranty.
Are Stairlifts Covered by Insurance?
Installing a stairlift is not cheap, but in some cases, it can be tax deductible. Stairlifts, unfortunately, do not count as durable medical equipment, so they can't be written off as medical expenses. However, they can potentially be classified as "capital expenses," which can include modifications made to a home for medical purposes. Because stairlifts typically do not increase the price of your home, they cannot be written off as a home improvement expense either.
Seniors with mobility issues may have difficulty residing in multi-story homes. Unfortunately, many are forced to move to senior communities or sell their homes outright. Senior living facilities can cost between $1,500 and $10,000 per month, depending on the amenities they offer. This can add up to a tremendous amount of money over time. By installing a stairlift, you may be able to remain in your home without having to worry about paying tens of thousands of dollars per year on living expenses alone.
How Else Can I Finance My Stairlift?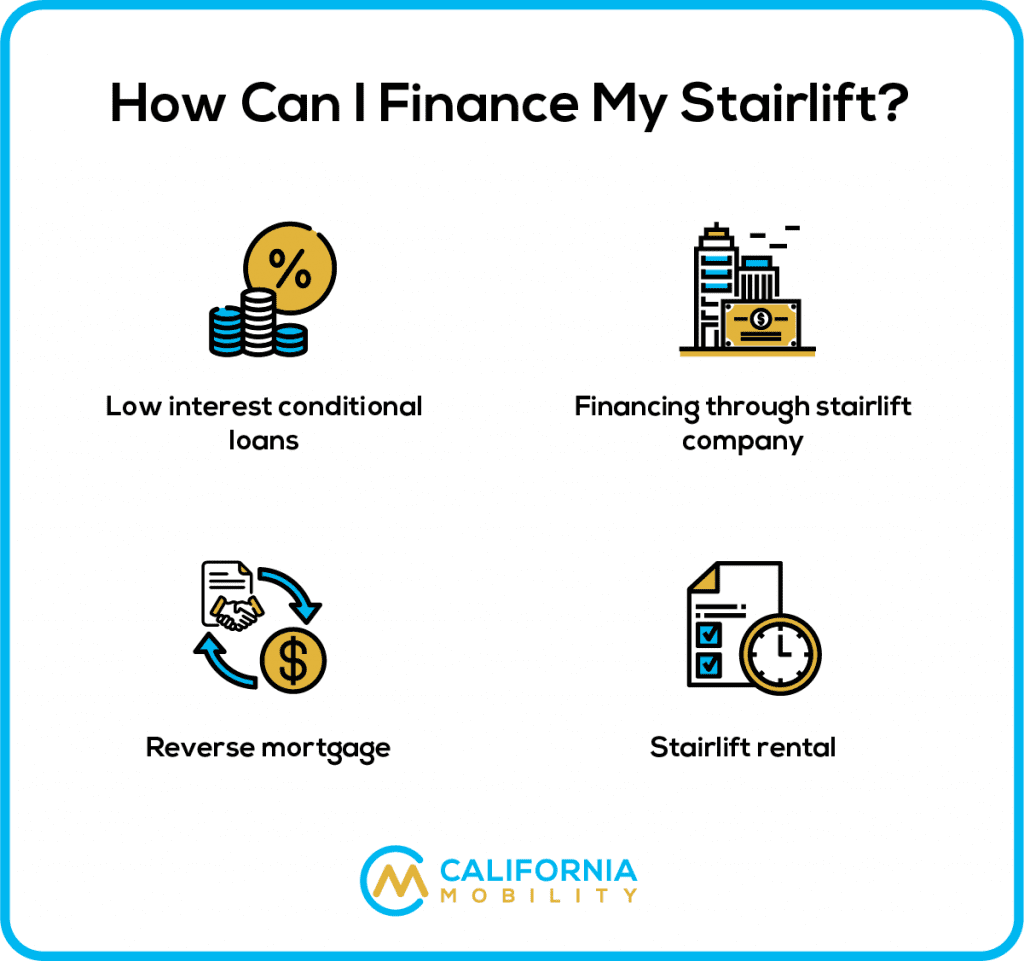 Because stairlifts are not considered medical devices, they are not covered by Medicare or the majority of private insurers. This means you will more than likely be required to pay for your stairlift out of pocket. It's important to arrange an appointment for a free quote so you will know what you can afford within your price range. Fortunately, customers who cannot afford to pay out-of-pocket may be able to take advantage of the following financial options:
Low interest or conditional loans from banks, credit unions, or state programs
Taking out a reverse mortgage
Financing through the stairlift company
You may be able to arrange a stairlift rental if the available rental options meet your needs.
The United States Department of Veterans Affairs may cover stairlift installation costs for veterans injured during service. This benefit is not available to all veterans, so those interested in purchasing a stairlift should contact their VA Benefits Counselor to verify their eligibility. Veterans may also be eligible for a variety of grants, which can reduce their overall installation costs down to $0.
Maintain Your Independent Lifestyle
If you are considering buying a stairlift, you will be pleased to know you have a plethora of options available. A stairlift is a valuable investment that can provide your home with greater accessibility and allow you to live out the golden years in their own home.