641 N Larchmont Blvd #219
Los Angeles, CA 90004
310-773-4689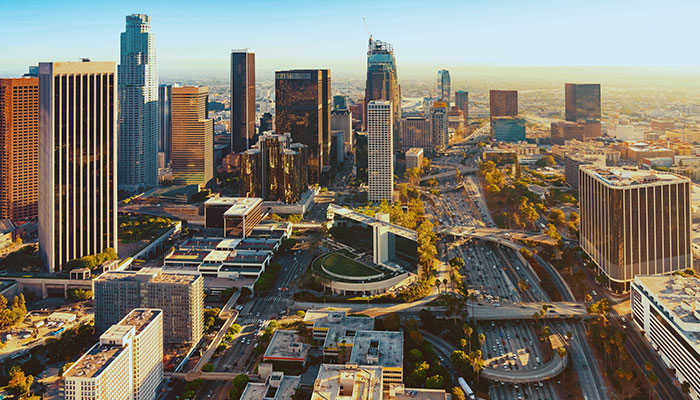 One of the most well-known cities in California, Los Angeles is the birth place of many great ideas and businesses. The founders of California Mobility operate with many home owners in the Los Angeles area.
Every technician from Los Angeles will provide prompt, friendly, and neighborly service. They'll be quick but thorough and leave no mess behind once the stairlift is installed.
Los Angeles Stairlift Pricing Tool
You're just a few clicks away from receiving your FREE Los Angeles stairlift estimate! Begin your estimate below.
Our Most Popular Los Angeles Stairlifts
Each Bruno Elite CRE 2110-E is designed to fit the exact contours of the home where it is installed. The Bruno Elite CRE 2110-E is one of the most popular in the Los Angeles area thanks to its weather-resistant design and durable outdoor paint.
FEATURES
Weight limit: 400 lbs

Waterproof cover can move with chair for all weather protection

Equipped with wireless send/call controls

Tested for performance at 0-125 degrees F
And More. Learn more about all of your curved stairlift options.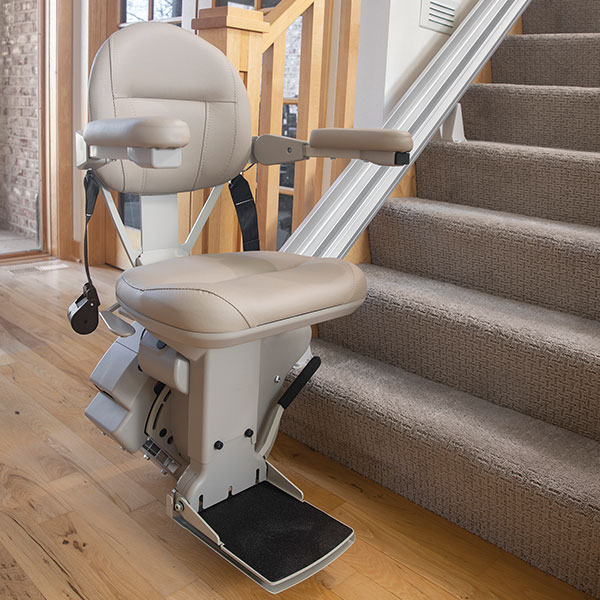 If you want a stair lift that will ensure comfort and easy access, the Bruno Elite SRE 2010 is the one to consider. It is not only attractive to look at, offering a stylish design that's sure to blend with your home's unique aesthetic, but it is simple to use with its control on the armrest and two wireless remote controls. With its many fabric and color options, plush padding, and larger seat and footrest, it's the go-to for many of our Los Angeles area customers.
FEATURES
Weight limit: 400 lbs

Plush seating makes for an extra comfortable ride

Comes with obstruction sensors for added safety 

Can be controlled by wireless call/send or chair arm controls 
And More. Learn more about all of your straight stairlift options.
Areas We Service in Los Angeles
Downtown Los Angeles
Central LA
West Hollywood
North Hollywood
Beverly Hills
West LA
Malibu
Pacific Palisades
Glendale
Burbank
And More
How Well Do You Know Los Angeles?
With the Pacific Ocean on one side and mountains as high as 10,000 feet on the other side, the city of Los Angeles covers approximately 502 square miles of land and water. It is the second-largest city in the United States and has a population of more than 3.7 million people. The Los Angeles Metropolitan Area has an estimated population of 18.7 million people.
The Los Angeles area was originally inhabited by the Chumash and Tongva Native American tribes and was claimed for Spain by Juan Rodriguez Cabrillo in 1542. The city was founded by Spanish governor Felipe de Neve in 1781 and became part of Mexico in 1821 after the Mexican War of Independence. Eventually, Los Angeles became part of the United States when California was purchased through the Treaty of Guadalupe Hidalgo. The city then became an incorporated municipality shortly before California officially became a state in 1850.
Los Angeles is separated from the San Fernando Valley by the Santa Monica Mountains. The San Gabriel Mountains, with its highest point being Mount San Antonio (also known as Mount Baldy), are located just north of the Los Angeles area. Like other cities in the area, there is a risk of earthquakes in Los Angeles, which is located on the Pacific Ring of Fire. There are approximately 10,000 earthquakes annually in the Southern California area, although most of them are so small that you can't even feel them.
The median home price in Los Angeles is $576,100, according to the National Association of Realtors' fourth-quarter 2018 figures. While this is higher than the national average, it is lower than the median home prices in San Diego and San Francisco.
When you think of Los Angeles, you may think about its role in movies and television, since Hollywood, one of Los Angeles' areas, is the hub of the world's motion picture and television industries. Major film studios and record labels operate in the area, which is also home to many awards programs, including the Academy Awards, Emmy Awards, and Grammy Awards.
Visitors may enjoy one of the area's many museums, including the Los Angeles County Museum of Art, the Getty Center, and the Peterson Automotive Museum. The city is also home to 11 professional sports teams, such as the Dodgers baseball team, the Rams NFL team, and the Lakers NBA team.
Los Angeles' cultural amenities, entertainment experiences, sporting events, Mediterranean climate, and 72 miles of coastline (with 30 miles of beaches) draw visitors from around the world.
Request a quote