San Diego, CA, USA
866-712-8935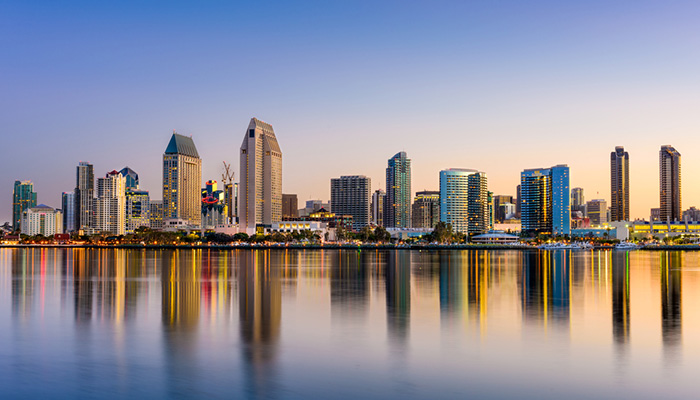 A beautiful city, San Diego is a pinnacle point in California and is an area California Mobility happily serves. Our services spread to San Diego a while ago and it's where we apply our specialties in installing the best stairlifts indoors and outdoors.
Every technician from San Diego will provide prompt, friendly, and neighborly service. They'll be quick but thorough and leave no mess behind once the stairlift is installed.
San Diego Stairlift Pricing Tool
You're just a few clicks away from receiving your FREE San Diego stairlift estimate! Begin your estimate below.
Our Most Popular San Diego Stairlifts
For those of you who are not interested in cookie-cutter designs, Bruno Elite CRE 2110 may be for you. It's Bruno's signature stairlift, built to your specific needs, customized for the unique design of your home. The Bruno Elite's flexibility makes it one of our most popular stairlift options in the San Diego area.
FEATURES
Weight limit: 400 lbs 

A comfortable, generously sized, adjustable chair

A vertical rail made to measure maximizes space

Armrest control moves stairlift up and down
And More. Learn more about all of your curved stairlift options.
Bruno's best selling, American-made straight stairlift – the Elan SRE 3050. The Elan blends style and functionality for a stairlift that is remarkably easy to use. It has a narrow vertical rail design that makes it perfect for narrow, high-traffic stairways. There's plenty of room to get around this lift when it's installed. Incorporating updated technology, styling, and ergonomic features, this chair lift is the first choice for homeowners in the San Diego area who value both form and function.
FEATURES
Weight limit: 300 lbs

Exceptional comfort from an adjustable, plush seat

Stairlift glides smoothly up and down with armrest controls 

Seat can swivel 90 degrees at the top landing
And More. Learn more about all of your straight stairlift options.
San Diego Neighborhoods We Service
Downtown San Diego
Little Italy
Mission Beach
Pacific Beach
North Park
Point Loma
Gaslamp Quarter
Mission Valley
Mira Mesa
Embarcadero
Balboa Park
Hillcrest
And More
Did You Know This About San Diego?
The city of San Diego, which is commonly referred to as "America's Finest City," is about 120 miles south of Los Angeles and adjacent to the Mexican border. Originally home to the Native American Kumeyaay people, the city is known as "the birthplace of California."
Spain claimed the area in 1769, making it the first European settlement in California. In 1821, San Diego became part of the Mexican Empire, and after the Mexican-American War, it was officially admitted to the union in 1850 and became part of the United States. With a diverse population of 4.9 million people, San Diego is the eighth-largest city in the United States and the second-largest city in California.
San Diego has been experiencing a low supply and high demand for single-family homes for sale. The median home value in the city of San Diego is around $632,000, which is an increase of 2.3% over the last year. The median rent price is $2,700.
The Port of San Diego in San Diego Bay is a hub of international and domestic commerce, recreation, and navigation that contributes billions of dollars to the area's economy by providing thousands of jobs and supporting local business activity. The bustling port also serves the cities of Chula Vista, Coronado, Imperial Beach, and National City.
The San Diego River runs through the city, which is situated on about 200 canyons and rolling hills. Several reservoirs and lakes provide opportunities for fishing, boating, swimming, and other outdoor activities.
The city is known for its 70 miles of scenic coastline and white sand beaches, mild winters, and summers that are warm and dry. In addition to the gorgeous beaches, visitors enjoy a variety of attractions, such as the San Diego Zoo, Seaworld, the Aircraft Carrier Museum, Balboa Park, Mission Bay Park, the Gaslamp Quarter, and Old Town San Diego State Historic Park. During baseball season, sports enthusiasts can take in a San Diego Padres game.
Top employers in the area include the United States Navy, University of California San Diego, Sharp HealthCare, and Qualcomm. The city's largest economic sectors are defense and military, international trade, research and manufacturing, and tourism.
With its pristine beaches, a diverse population, world-class attractions, scenic parks, and economic opportunities, San Diego offers many great amenities for both residents and visitors.
Request a quote