21 Senior Technology Statistics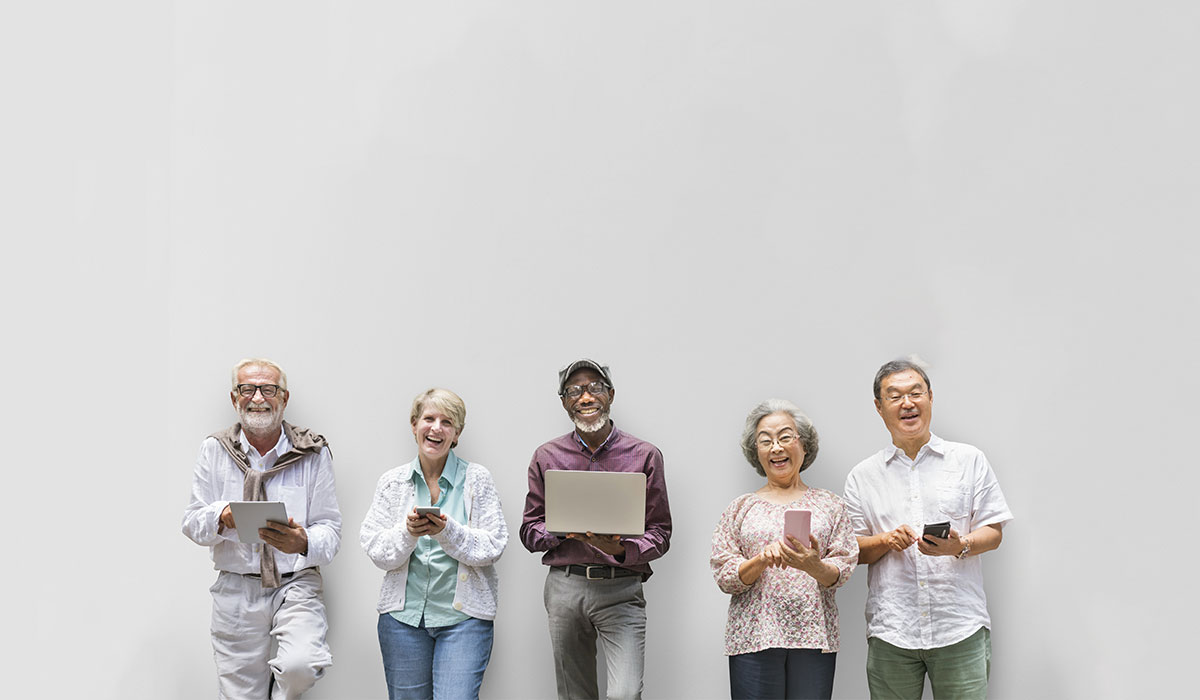 New developments in modern technology have changed the way we communicate, bringing a variety of high-tech devices into our homes and lives. Smartphones, tablets, voice-controlled home assistants, smart appliances, and an Internet that offers an endless amount of information, have become easily accessible to many Americans. While these changes have happened rapidly, leaving some older adults hesitant to adopt new technology, other seniors are embracing it with open arms. 
We gathered statistical data to show the relationship between seniors and technology, and we found 25 statistics that reflect the trends that are emerging as more and more seniors adopt today's technology.
Technology Statistics
1. 51% of seniors report purchasing a tech product within the past year.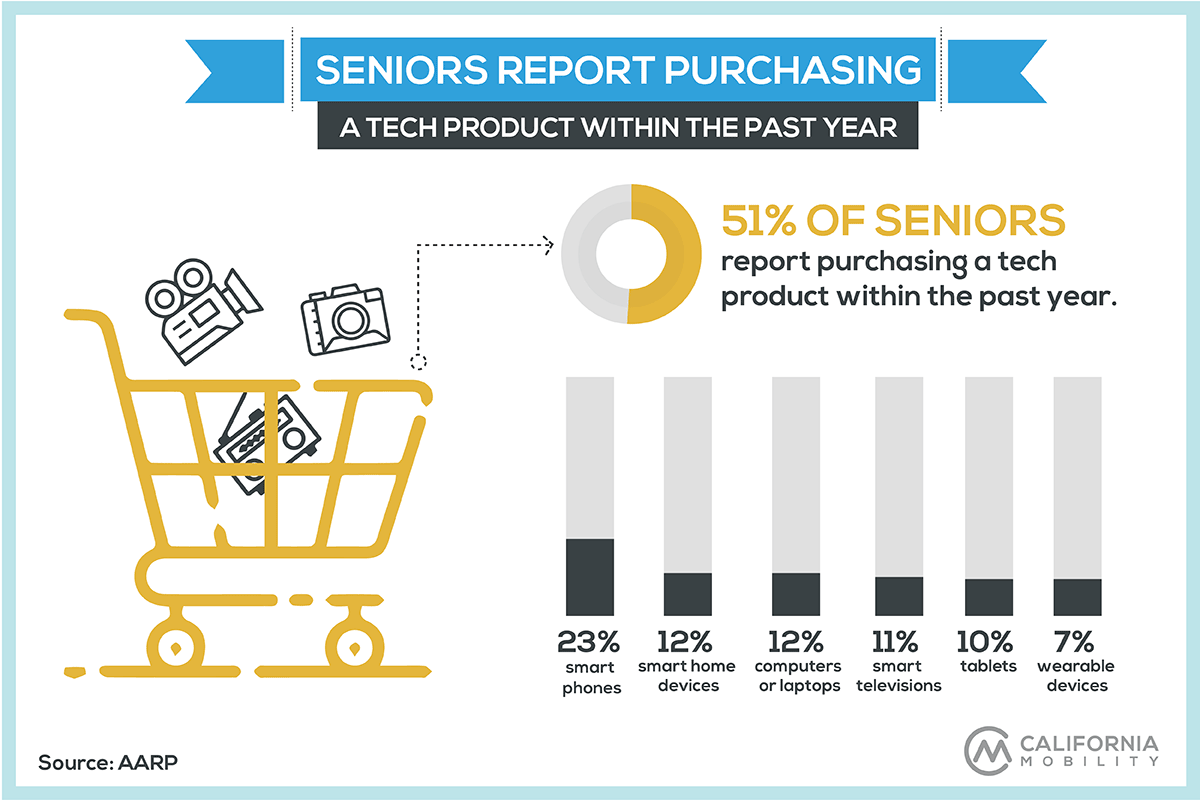 Source: AARP
Today's seniors are using many different types of high-tech devices, and an AARP survey found that 51% of those surveyed have recently purchased new equipment. Smartphones were the top purchase, with 23% of seniors purchasing them. Computers or laptops were the second-most-common purchase, with 12% of seniors purchasing them. Other common purchases included smart home devices (12%), smart televisions (11%), tablets (10%), and wearable devices (7%). Most seniors who own these devices reported using them daily.
2. More than half of people over age 50 own a tablet.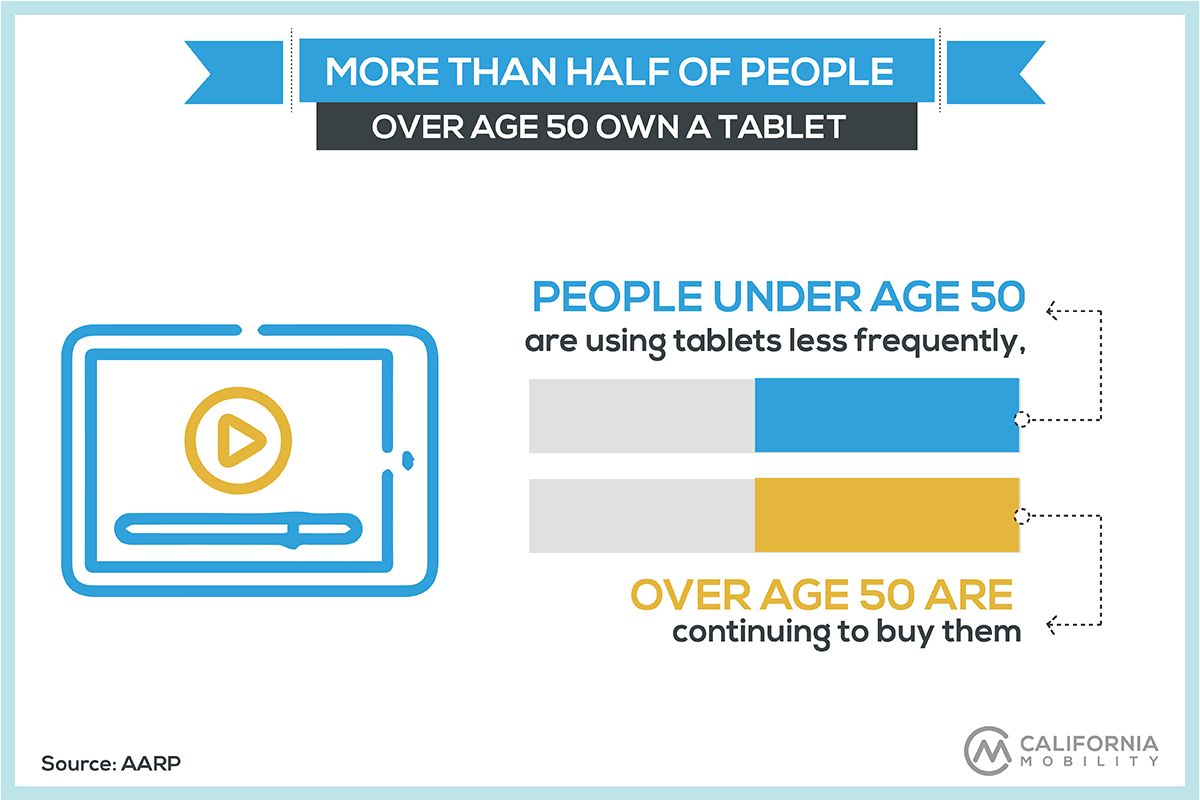 Source: AARP
An AARP study found that people under age 50 are using tablets less frequently, while those over age 50 are continuing to buy them. Tablets are a great fit for many seniors because they fall somewhere between a smartphone and a laptop, so they work well for using the Internet, connecting on social media, shopping, or streaming content. Because the screen is larger than a smartphone, they are especially useful for those who have low vision.
3. 19% of seniors report owning e-readers.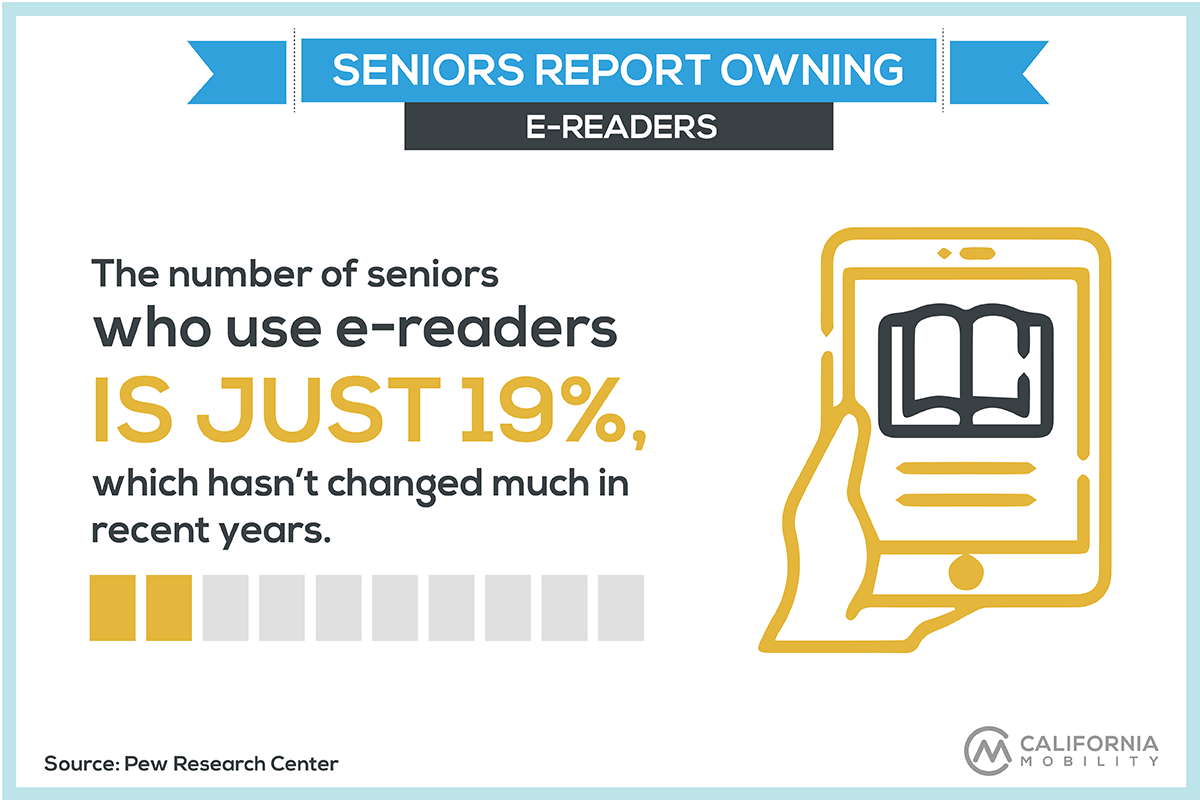 Source: Pew Research Center
As many seniors continue to rely more on their smartphones and tablets, the number of seniors who use e-readers is just 19%, which hasn't changed much in recent years. Tablets offer seniors the ability to read e-books without having to purchase a separate e-reader, so it can be cost-effective for seniors to use their tablets in place of e-readers.
4. 7.3% of seniors use smart speakers at least once per month.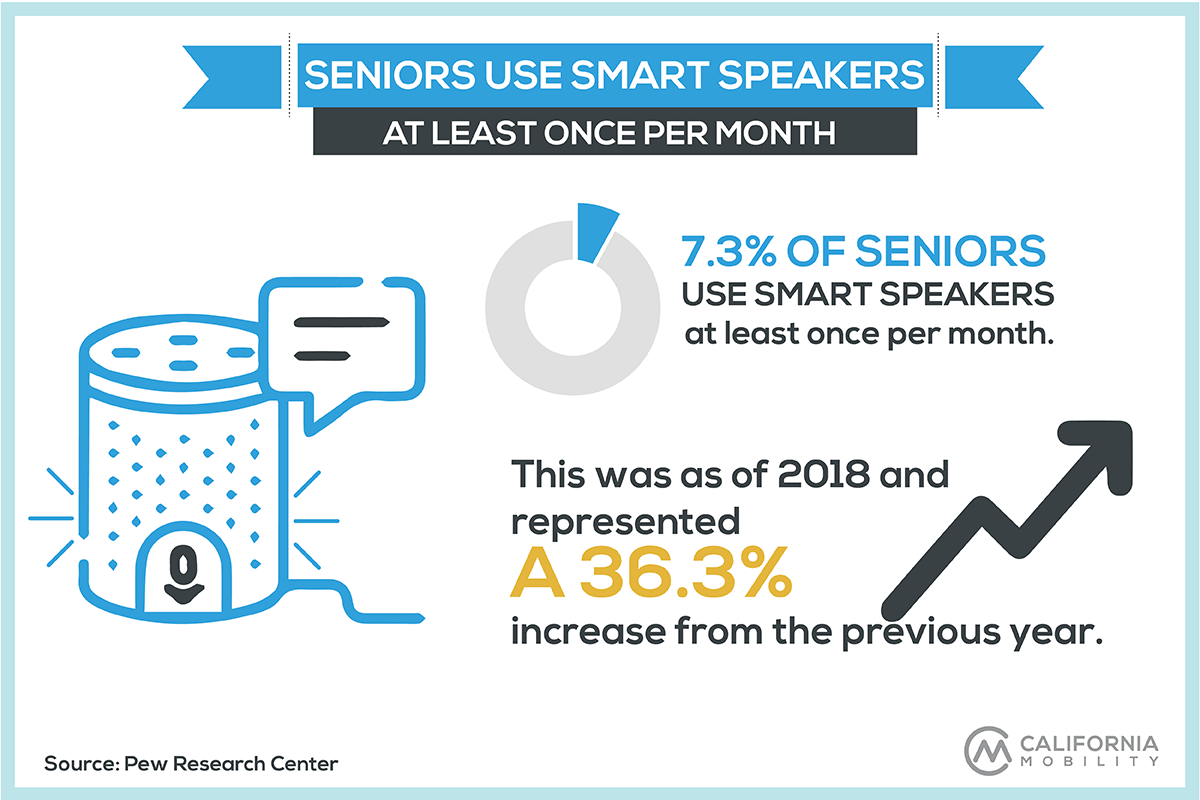 Source: eMarketer
This was as of 2018 and represented a 36.3% increase from the previous year. Smart speakers can be very useful for seniors, who can use voice technology to make emergency calls. Seniors with limited mobility can also use the technology to aid in their daily tasks.
5. 7% of seniors use only streaming services for movies, shows, and series.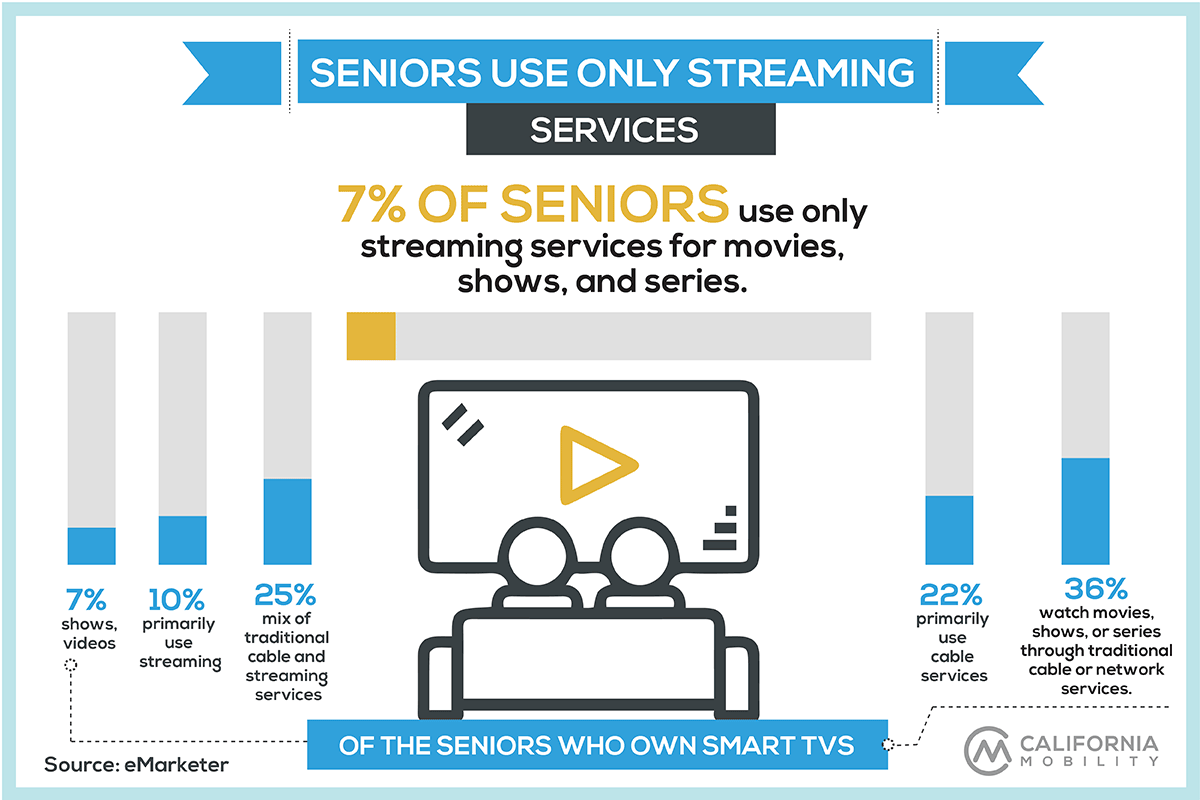 Source: AARP
Of the seniors who own smart TVs, 7% watch shows, videos, or movies through streaming only; 10% primarily use streaming; 25% use a mix of traditional cable and streaming services; and 22% primarily use cable services. Although many seniors are beginning to use streaming services to consume content, 36% of them only watch movies, shows, or series through traditional cable or network services. This reflects the reluctance that many seniors have about giving up their cable service.
6. 44% of seniors who stream video content do so daily or weekly.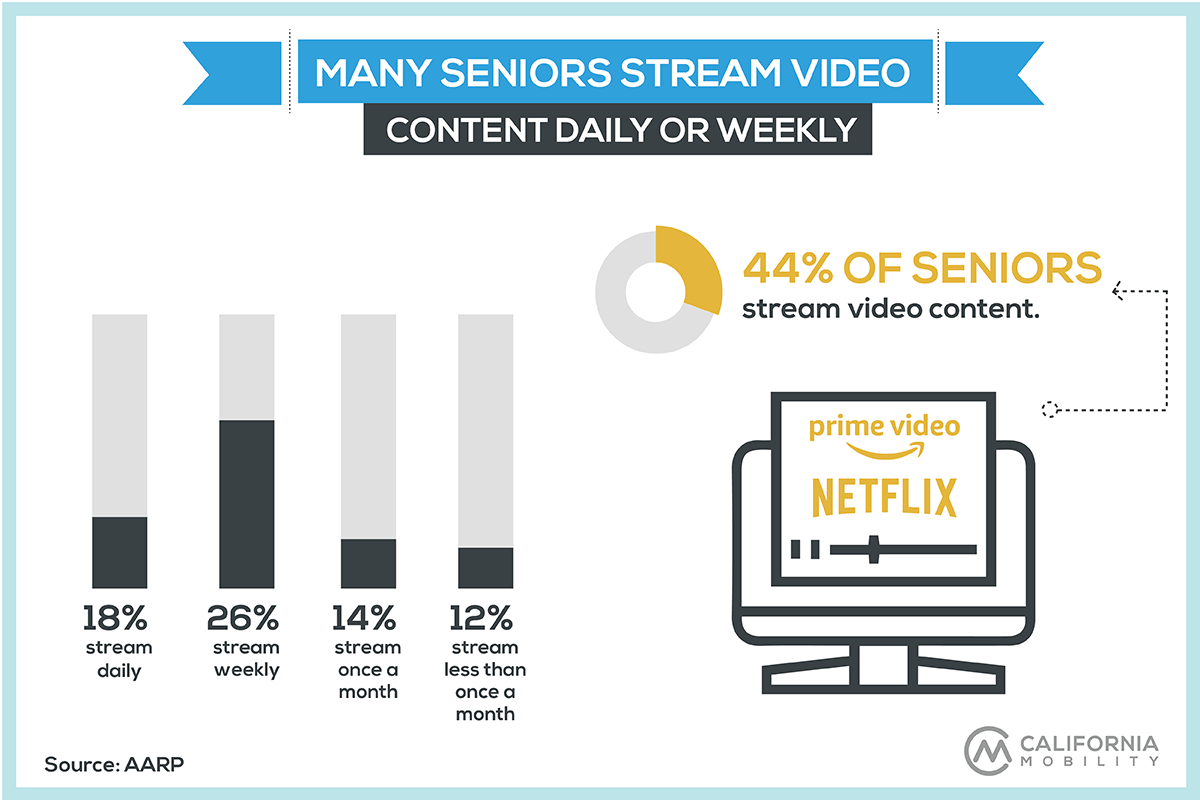 Source: AARP
Of the seniors who stream video content, 18% do so daily, and 26% do so weekly. Other seniors use their services less frequently, such as the 14% who stream once a month and the 12% who stream less than once a month. The two most popular streaming services among these seniors are Netflix and Amazon Prime Video.
7. 86% of seniors aged 50 – 59 and 81% of those aged 60 to 69 and 62% of those aged 70 and older use smartphones.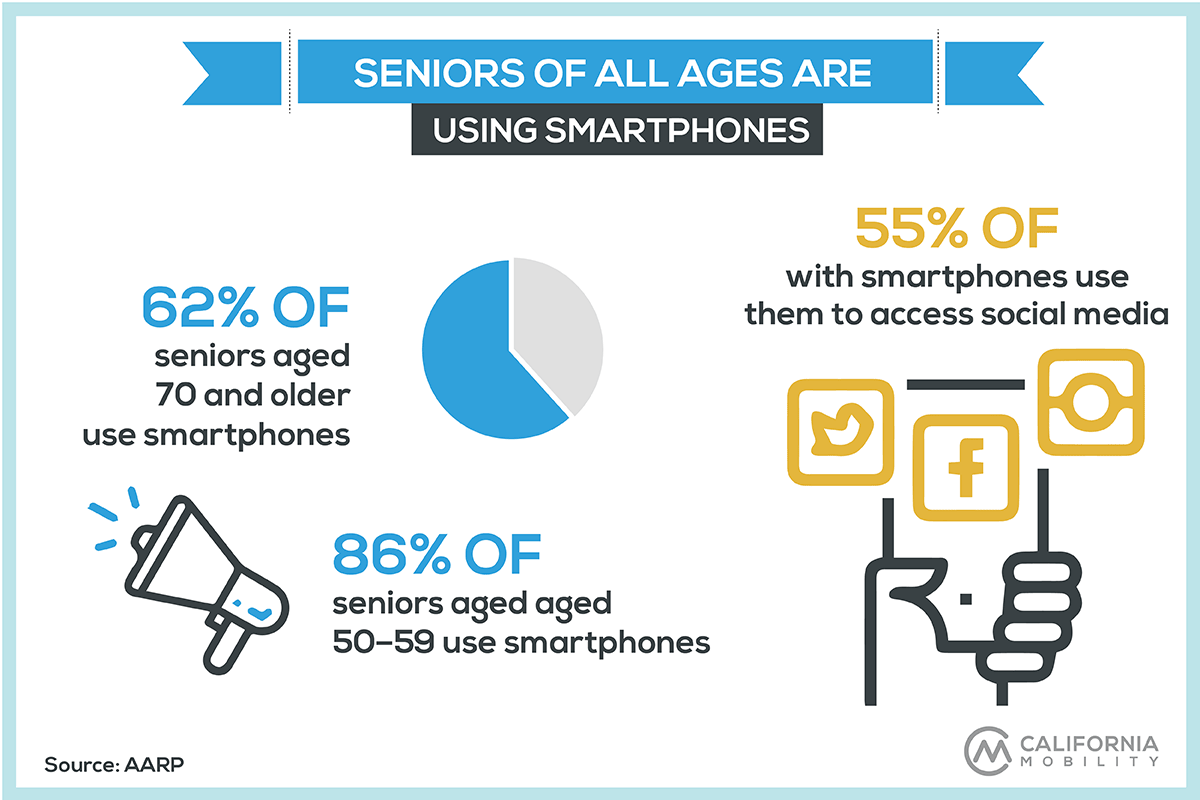 Source: AARP
The number of seniors who use smartphones has grown over the years, and you can see a dramatic difference from the lower (62%) to higher (86%) ages. Seniors are becoming more comfortable with smartphone technology, and they tend to use smartphones most frequently for email, social media, online searches, and getting directions. Of the seniors who have smartphones, 55% use them to access social media.
8. 81% of high-income seniors versus 27% of low-income seniors own smartphones.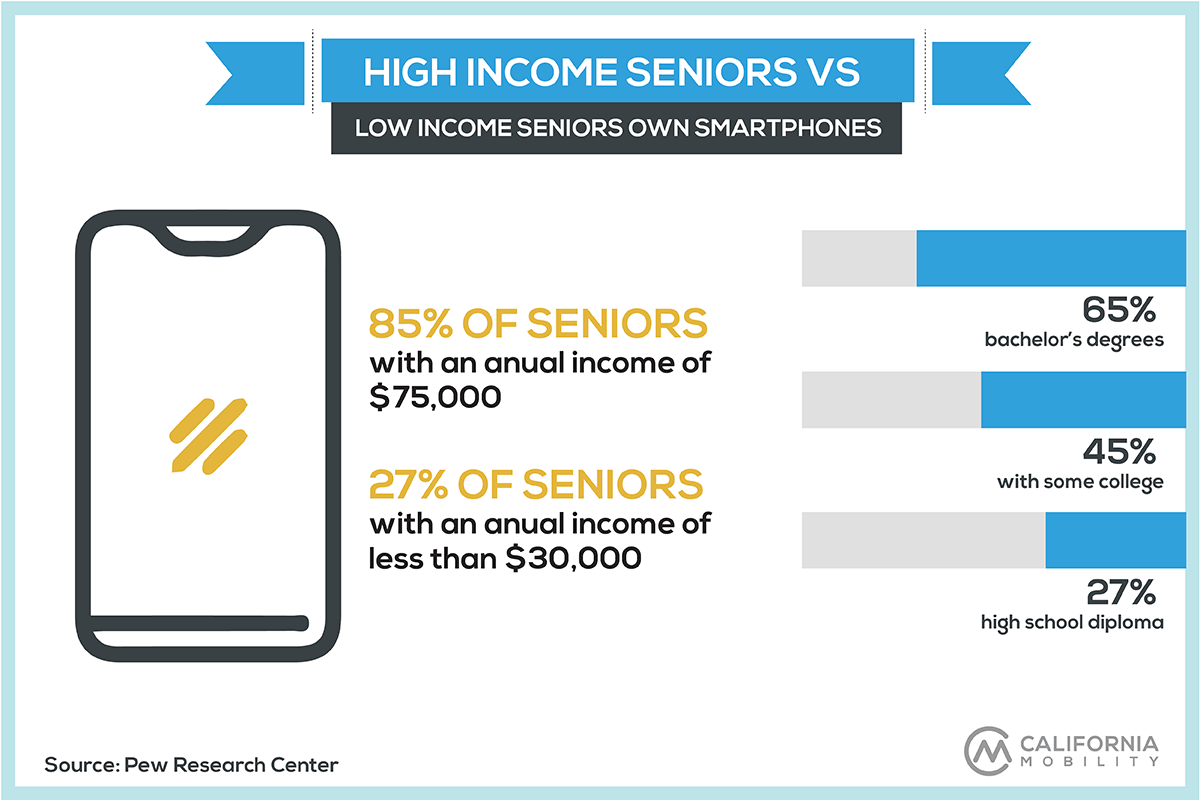 Source: Pew Research Center
Smartphone ownership among seniors is tied to income and education. A Pew Research Center survey found that 85% of seniors with an annual income of $75,000 or more owned smartphones, while only 27% of seniors with an annual income of less than $30,000 owned them. Smartphone ownership is also correlated to education level, with 65% of seniors with bachelor's degrees, 45% of those with some college, and 27% of those with high school diplomas or less owning smartphones.
9. More than half of seniors who own smartphones or tablets use social media apps weekly.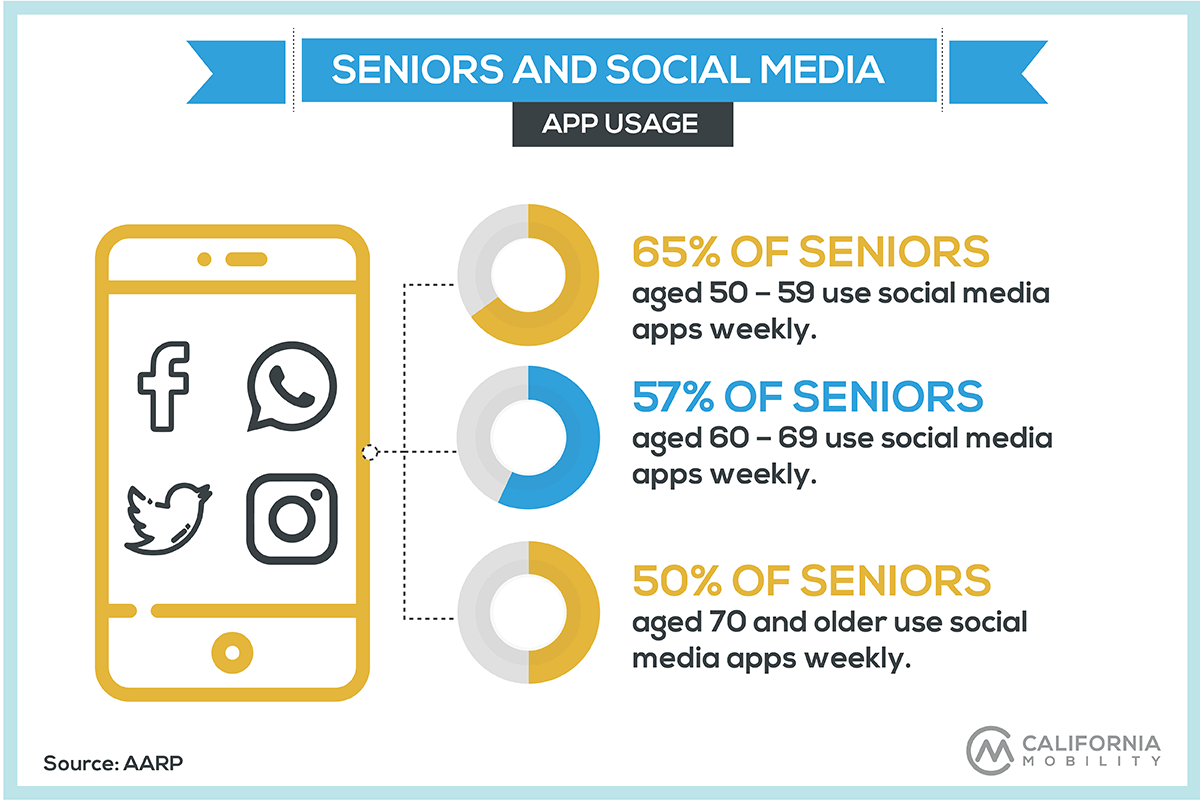 Source: AARP
The majority of seniors who own smartphones and tablets use their devices to access social media at least once a week. For example, 65% of seniors aged 50 – 59, 57% of seniors aged 60 – 69, and 50% of seniors aged 70 and older do so. This suggests that seniors are relying on their smartphones to communicate with friends and family through social media channels at least once a week.
10. 56% of seniors send text messages to loved ones daily.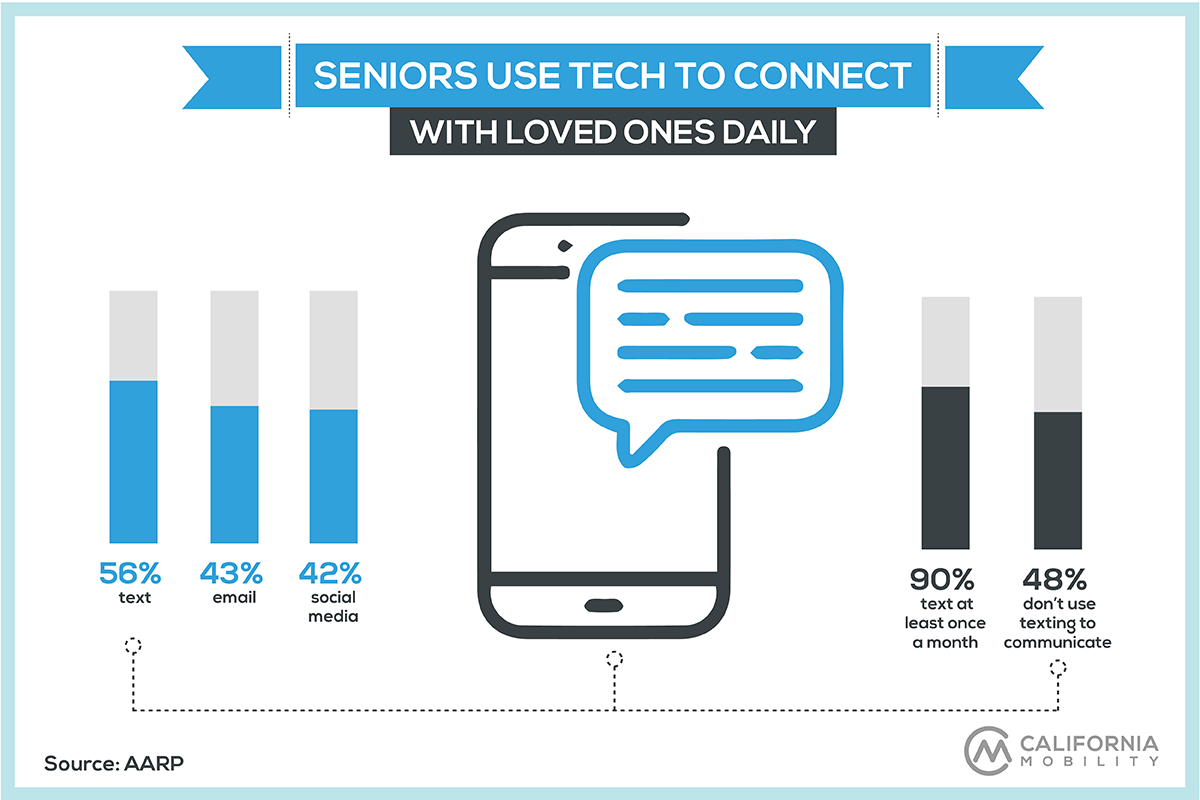 Source: AARP
Seniors use several methods to communicate with their friends and family on a daily basis, including text messaging (56%), Email (43%), and social media (42%). Texting has become the most common method for seniors who use technology to communicate with loved ones, with 90% reporting that they text at least once per month. The technology with the lowest number of participants was video chat, with 48% of seniors claiming they've never used it to communicate with loved ones.
11. 67% of seniors use the Internet.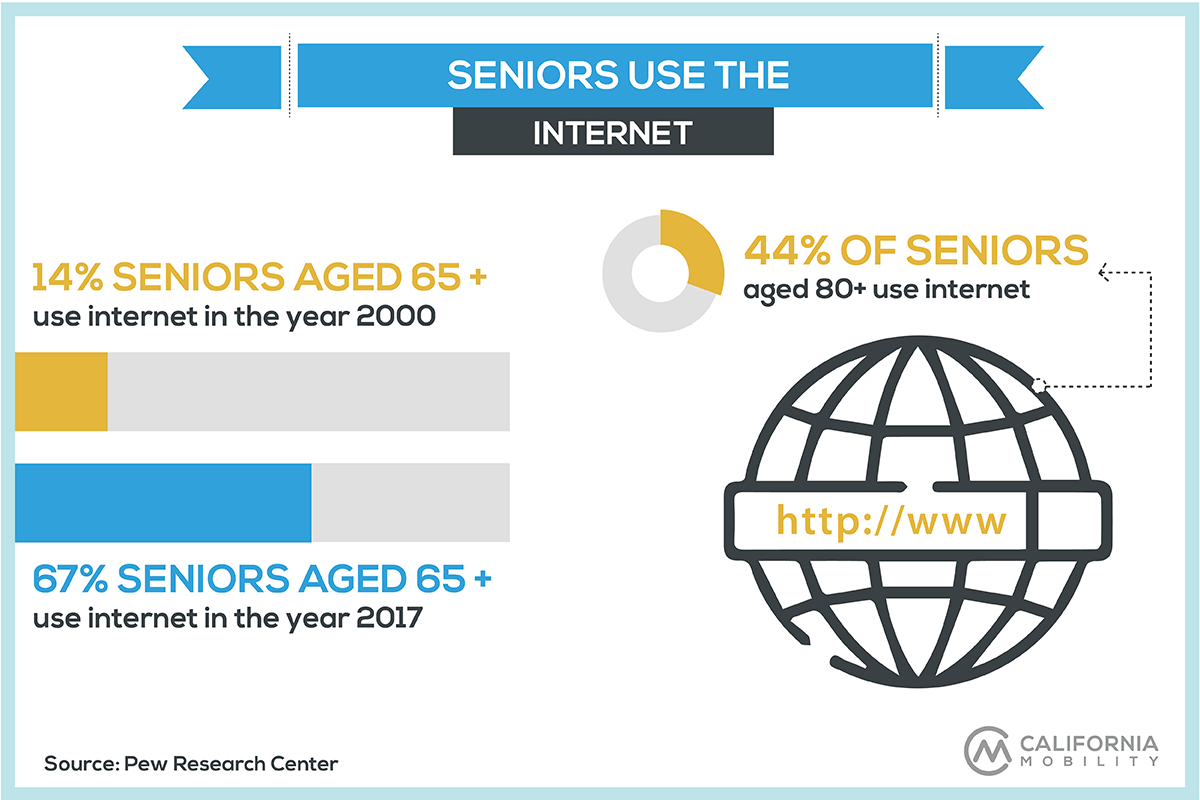 Source: Pew Research Center
The number of seniors aged 65 and older who use the Internet has increased from 14% in the year 2000 to 67% in 2017. But while many seniors are using the Internet more frequently, that's not the case for those who are aged 80 and older. Only 44% of seniors in this group reported using the Internet. Seniors in their 70s reported Internet use in between these numbers.
12. 17% of seniors use voice-activated home assistants.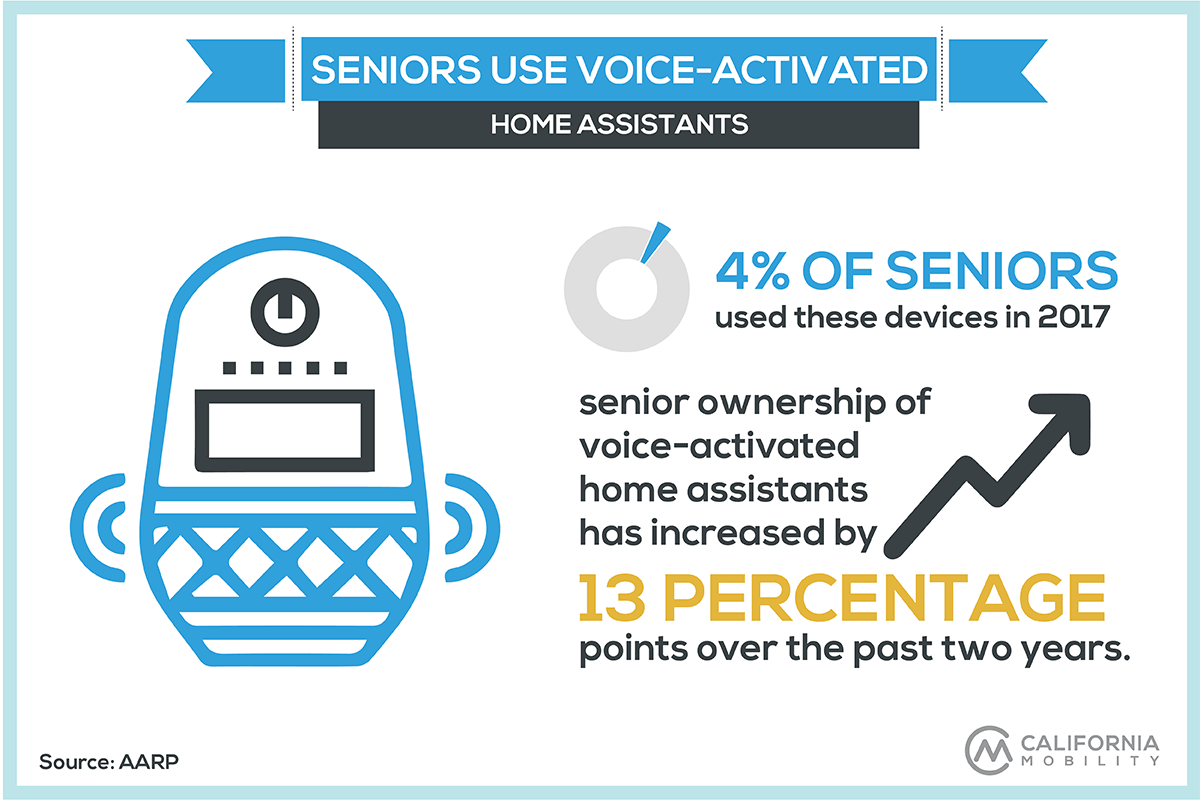 Source: AARP
Voice-activated home assistants are capable of so many tasks, such as playing music, reporting the weather, and getting answers to your questions, and some seniors are benefitting from these devices. While 17% might seem like a low number, in 2017, just 4% of seniors used these devices, so senior ownership of voice-activated home assistants has increased by 13 percentage points over the past two years.
13. 10% of seniors using smart home assistants are very confident their privacy is protected.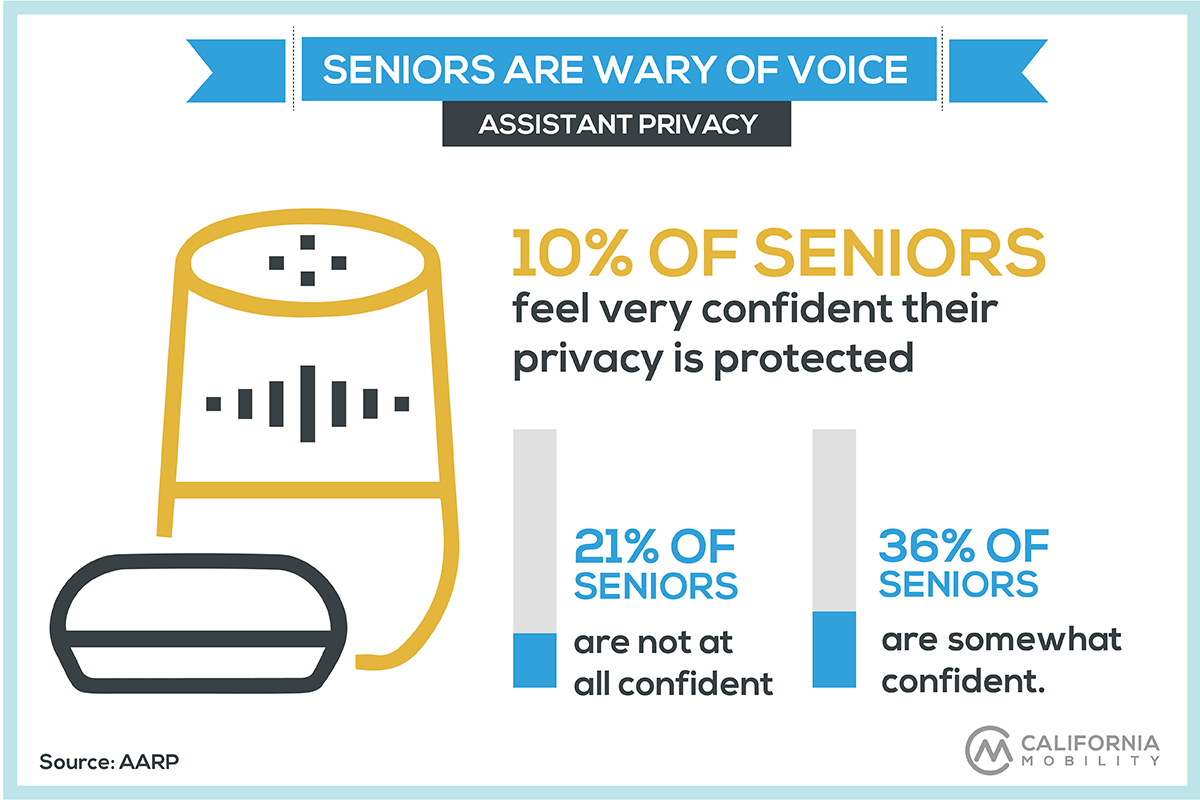 Source: AARP
Even though smart home assistants are becoming more common tools for seniors to use, most seniors don't feel confident that their privacy will be respected when using their devices. Only 1% of seniors feel extremely confident that their interactions with their devices will be kept private, 21% are not at all confident, and 36% are somewhat confident their privacy is protected.
14. 40% of seniors would agree to use technology to track their health.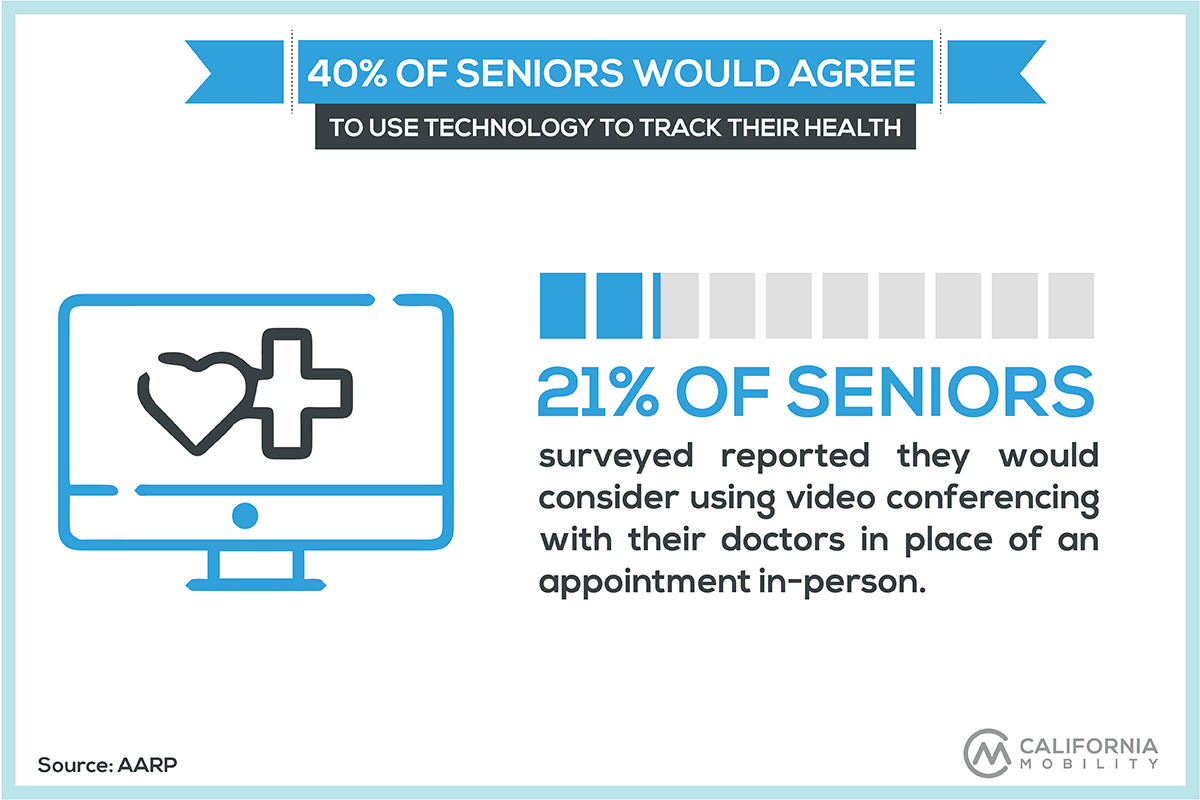 Source: AARP
These seniors reported that they would be willing to use technology to assist with health care tasks, such as medicine reminders and reporting to their physicians. Many seniors are open to virtual appointments, with 21% of the seniors surveyed reported they would consider using video conferencing with their doctors in place of an appointment in-person.
15. 66% of seniors are comfortable with their privacy while using wearable devices.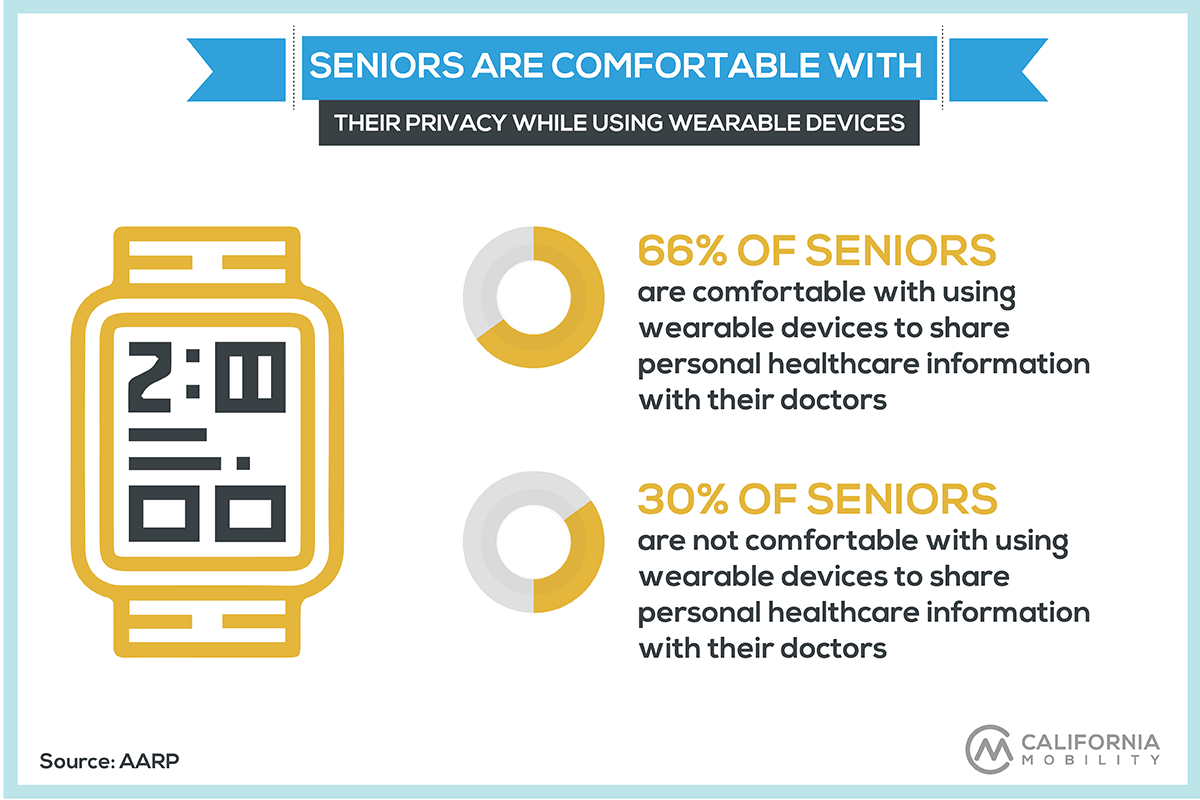 Source: AARP
Privacy is sometimes a concern for people who are using new technology. While 66% of seniors say they are comfortable with using wearable devices to share personal healthcare information with their doctors and other health care providers, 30% reported they would not share personal information through a wearable device.
16. 75% of those over age 50 use social media regularly.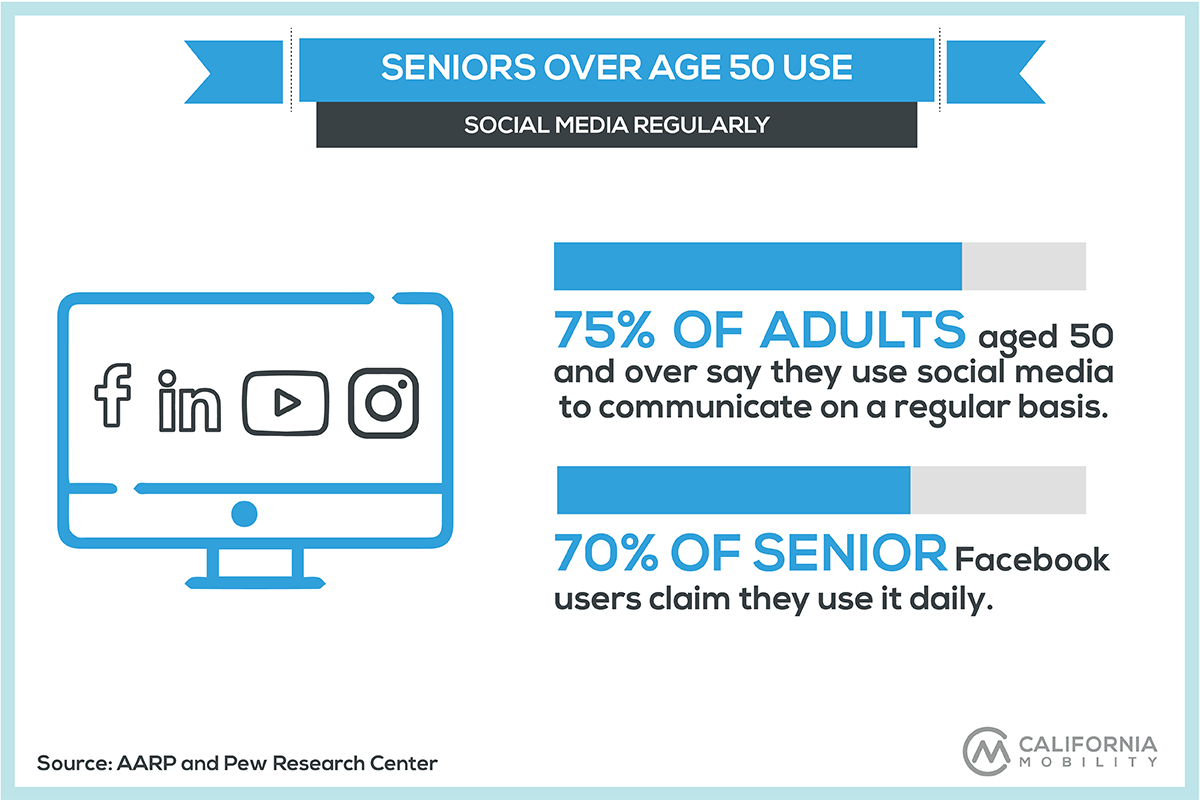 Source: AARP and Pew Research Center
Approximately 75% of adults aged 50 and over say they use social media to communicate on a regular basis. Social media is important for many seniors because it allows them to connect with friends and family even when they can't physically be together. The most popular social media platform for seniors is Facebook, and 70% of senior Facebook users claim they use it daily. Other popular social media channels for seniors are YouTube, Instagram, and LinkedIn.
17. Three-quarters of seniors who use the Internet do so daily.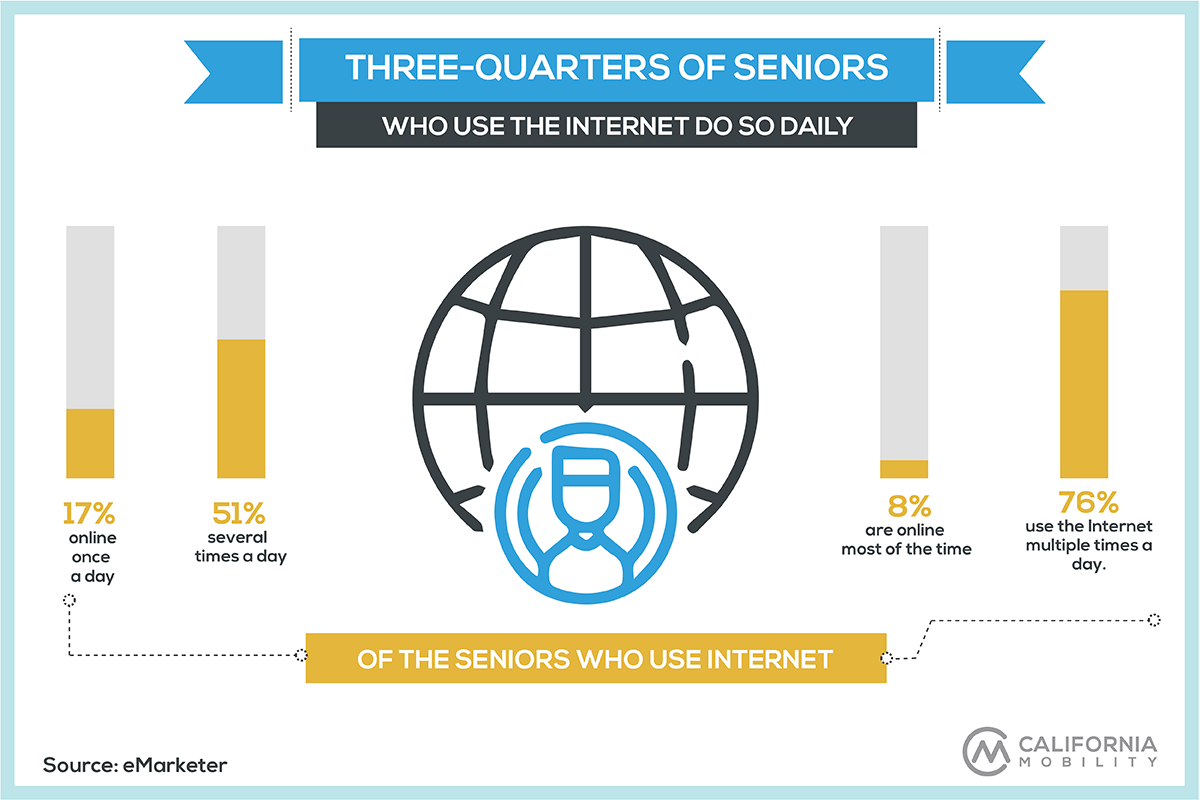 Source: Pew Research Center
Seniors who go online tend to be engaged with the content and their digital devices. Approximately 17% of seniors go online once a day, while 51% do so several times a day, and 8% claim they are online most of the time. Out of the seniors who own smartphones, 76% say they use the Internet multiple times a day.
18. 26% of seniors aged 65 and older feel very confident using electronic devices.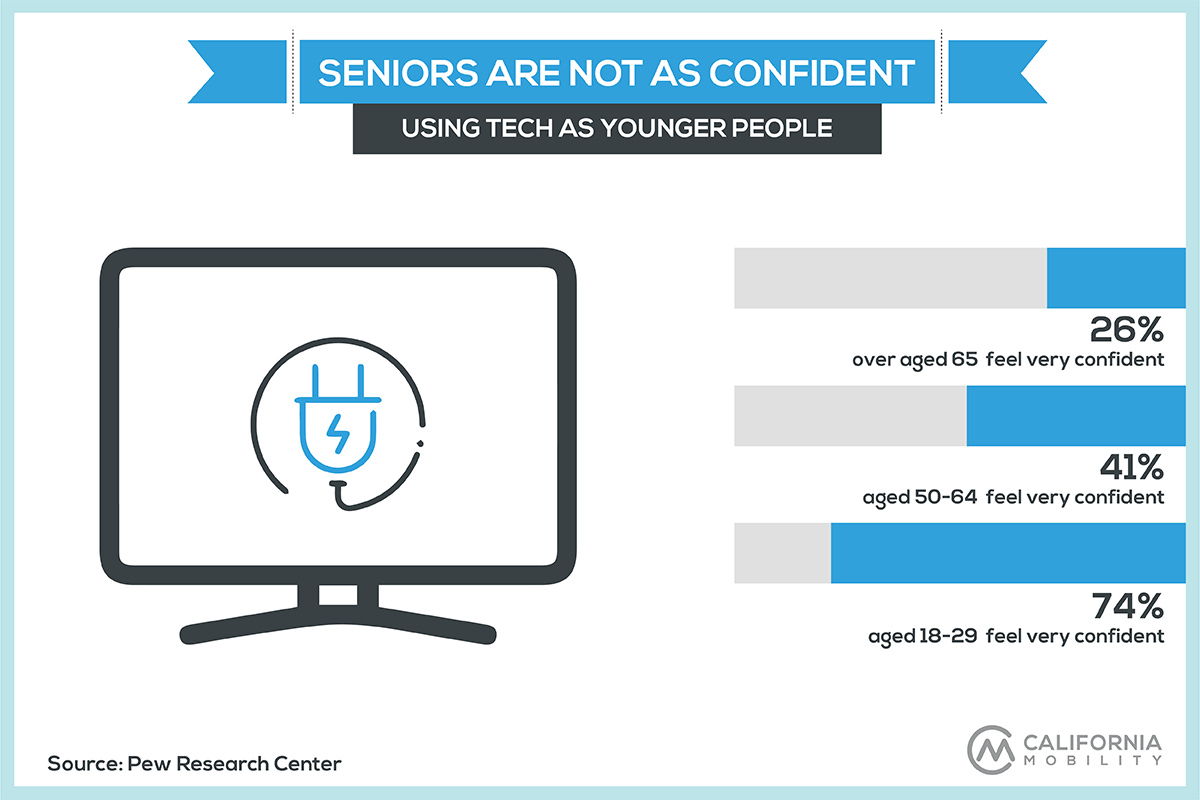 Source: Pew Research Center
Seniors are less confident using electronic devices than those who are younger, with each age group being more confident than the previous one. About 26% of seniors aged 65 and over claim they feel very confident, and 41% of those who are aged 50 – 64 report feeling very confident. In comparison, 74% of those aged 18 – 29 feel very confident, so there is a gap between age groups.
19. 73% of seniors aged 65 and older say they need help using new devices.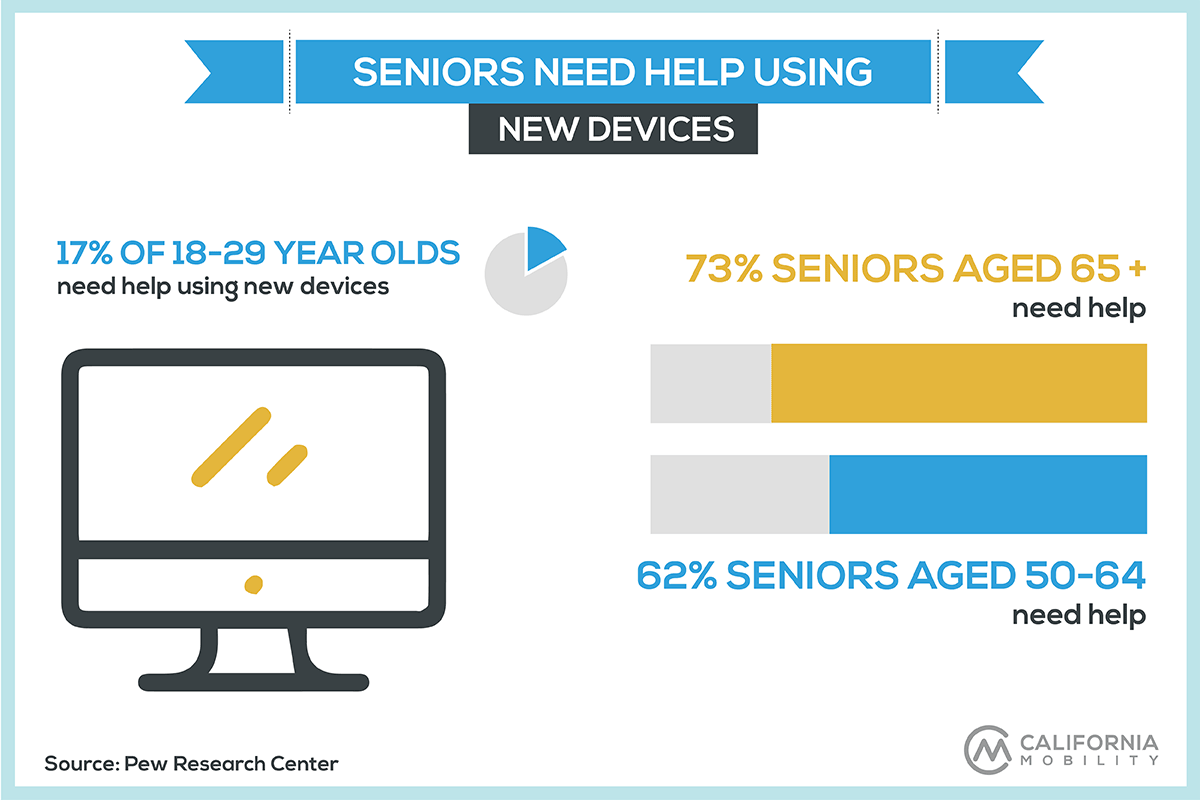 Source: Pew Research Center
Many seniors say they need help setting up and learning to use new devices. For those aged 65 and older, 73% need help, and 62% of those aged 50 – 64 need help. These percentages are much higher than younger age groups, such as the 17% of 18 – 29 year-olds who need help.
20. Many seniors (percentages vary) who are interested in purchasing technology items do not purchase them.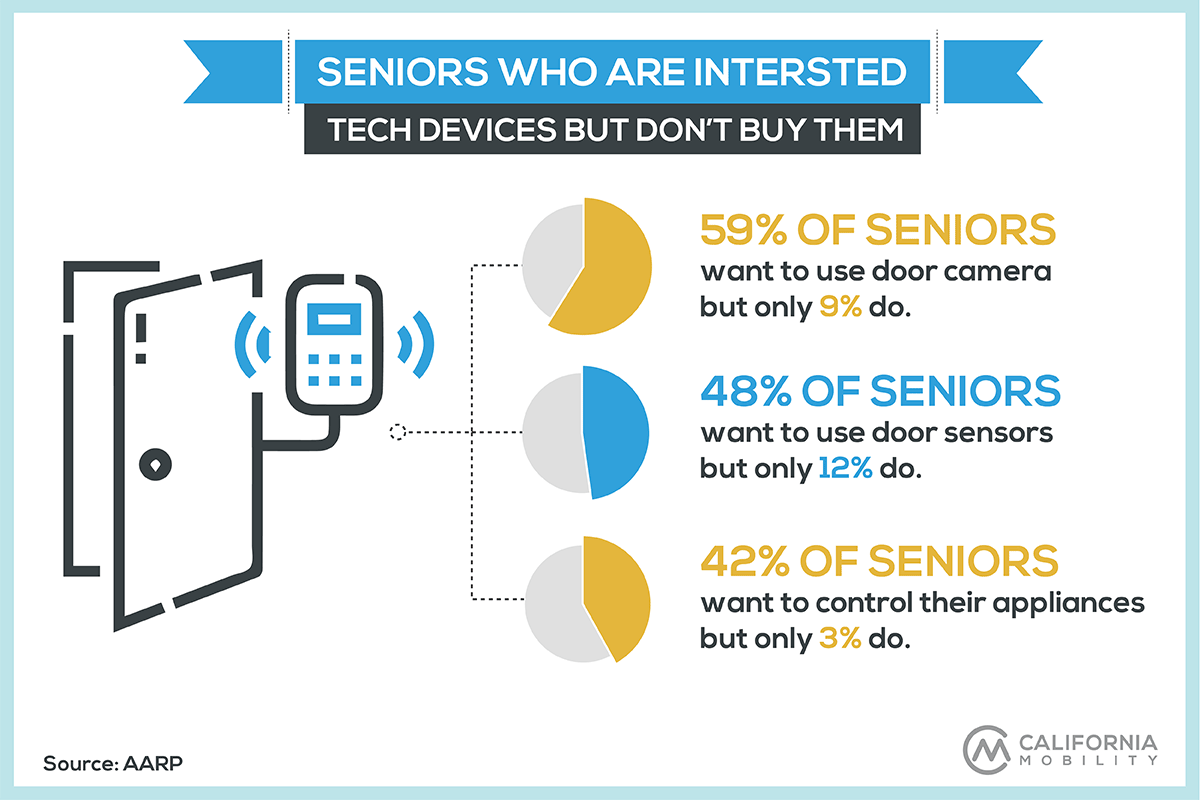 Source: AARP
While many seniors express an interest in owning high-tech devices, the majority of them do not follow through with a purchase. For example, 59% of seniors are interested in purchasing a front door camera, but only 9% currently own and use one; 48% of seniors want window and door sensors, but only 12% have them; and 42% of seniors want devices to control their appliances, but only 3% have them.
21. 58% of seniors believe technology has a positive effect on society.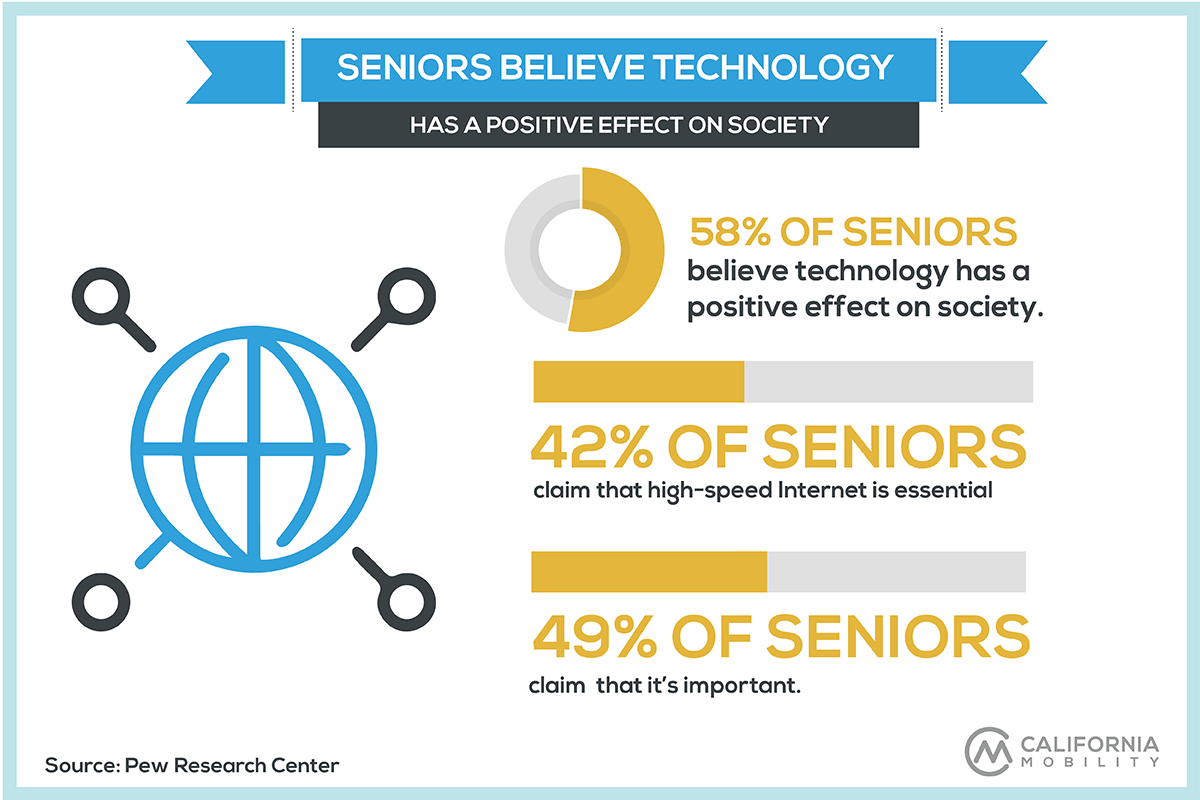 Source: Pew Research Center
Despite any concerns about the negative effects of technology, the majority of seniors see technology as having a positive effect on society. Many seniors consider technology to be important, with 42% of seniors claiming that high-speed Internet is essential, and 49% of seniors claiming that it's important.
Conclusion
Much of this statistical information shows that younger seniors have adopted new technology at a higher rate than those who are older. Older seniors are beginning to embrace new high-tech devices that provide opportunities for them to communicate, socialize, shop, pay bills, keep their homes safe, and even operate their appliances in new ways. Today's technology has the ability to make life easier for many seniors who are willing to reach out and try new things.
Back to Blog