The city of Burbank is known as the "Media Capital of the World" and is home to the headquarters of Warner Bros. Entertainment and Disney. With the presence of museums such as the Martial Arts History Museum and the American Fine Arts Foundry, residents have plenty of opportunities to engage in diverse forms of the arts and culture. Hiking trails, sports courts, and baseball fields provide an outlet for those who enjoy outdoor recreation.
Every technician from Burbank will provide prompt, friendly, and neighborly service. They'll be quick but thorough and leave no mess behind once the stairlift is installed.
Burbank Stairlift Pricing Tool
You're just a few clicks away from receiving your FREE Burbank stairlift estimate! Begin your estimate below.
Our Most Popular Burbank Stairlifts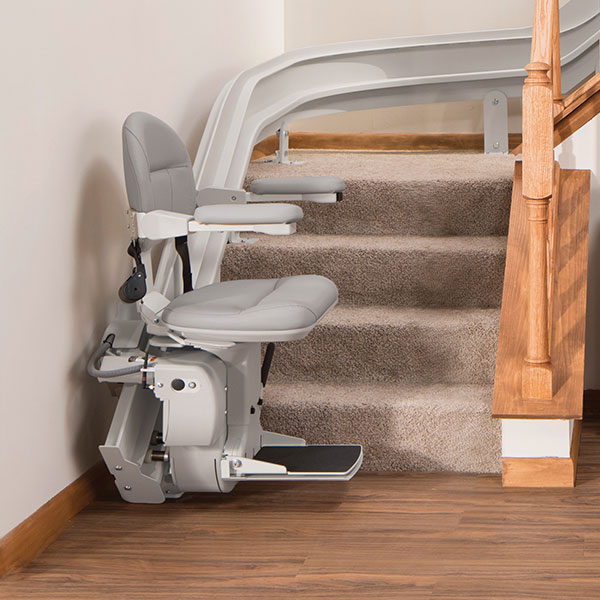 curved stairlift optionsFor those of you who are not interested in cookie-cutter designs, Bruno Elite CRE 2110 may be for you. It's Bruno's signature stairlift, built to your specific needs, customized for the unique design of your home. The Bruno Elite's flexibility makes it one of our most popular stairlift options in the Burbank area.
FEATURES
Weight limit: 400 lbs 

A comfortable, generously sized, adjustable chair

A vertical rail made to measure maximizes space

Armrest control moves stairlift up and down
And More. Learn more about all of your curved stairlift options.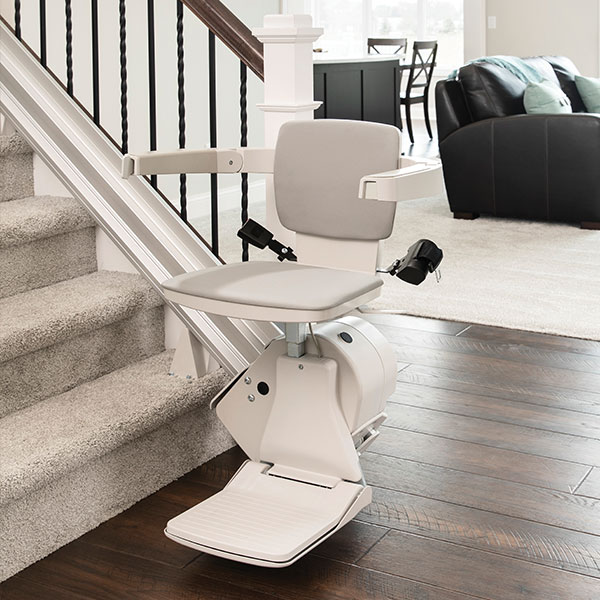 Bruno's best selling, American-made straight stairlift – the Elan SRE 3050. The Elan blends style and functionality for a stairlift that is remarkably easy to use. It has a narrow vertical rail design that makes it perfect for narrow, high-traffic stairways. There's plenty of room to get around this lift when it's installed. Incorporating updated technology, styling, and ergonomic features, this chair lift is the first choice for homeowners in the Burbank area who value both form and function.
FEATURES
Weight limit: 300 lbs

Exceptional comfort from an adjustable, plush seat

Stairlift glides smoothly up and down with armrest controls 

Seat can swivel 90 degrees at the top landing
And More. Learn more about all of your straight stairlift options.
Burbank Neighborhoods We Service
Burbank Hills
Glendale
Magnolia Park
Toluca Terrace
Vickroy Park
Pacific Park
West Cedar Ave
Wyoming Estates
And More
Did You Know This About Burbank?
The area that is now Burbank was once part of two Spanish and Mexican colonial land grants before American immigrants settled there during the 1870s and 1880s. By 1887, the area had become a farming community, and the arrival of the railroad enabled farmers to move their crops to market. 
With the construction of a major airport in Burbank in the 1930s and the development of Lockheed Aircraft Company, the community became an important player in aviation. The establishment of the motion picture industry in the 1920s made Burbank the hub for filmmaking. Burbank was officially incorporated as a city in 1911. 
Located northwest of Los Angeles in Los Angeles County, Burbank covers an area of 17.35 square miles and has a population of 103,340, according to the 2010 Census. 
The housing market in Burbank is competitive, with many homes receiving multiple offers, selling for 1% above list price, and becoming pending in 17 days. The median home value in the city is $828,544, and the average monthly rent is $2,431. The median annual household income is $66,111. 
Major industry sectors in Burbank include entertainment, professional, scientific, technical, administrative services, education, and food and beverage. 
Major employers in Burbank include Warner Brothers, the Walt Disney Company, Providence Saint Joseph Medical Center, Hollywood Burbank Airport, Burbank Unified School District, the City of Burbank, Deluxe Entertainment Services Group, American Broadcasting Company, Entertainment Partners, and Nickelodeon Animation Studio. 
With hot summers and mild winters, Burbank has a hot-summer Mediterranean climate. The average annual precipitation is 17.31 inches. 
Burbank offers a variety of options for enjoying the community's arts and culture. The Martial Arts History Museum features exhibits that reflect the history of martial arts, including its Asian culture and traditions. 
The American Fine Arts Foundry features the work of artisans, artists, and architects, including fine art furniture and lighting, as well as modern, western, and figurative sculptures in bronze and stainless steel. 
Burbank is home to the international headquarters of The Walt Disney Company. This includes a 51-acre studio lot with sound stages, filmmaking production facilities, and a backlot. The Providencia Ranch is also located in Burbank. This is a large property that was used as filming locations for some silent motion pictures and American Civil War battle scenes in the movie, The Birth of a Nation. Other movie studios located in the area include Warner Brothers, Cartoon Network Studios, The Burbank Studios, Nicktoons Studios, and Hasbro Studios. 
For those who enjoy outdoor activities, there are plenty of options for outdoor recreation in Burbank. There are several parks and recreation facilities in the area, with amenities such as aquatics activities, fitness classes, community programs, a skate park, and a golf course. Visitors can also enjoy playgrounds, picnic areas, hiking trails, sports courts, and baseball fields.
Request a quote