Moving Elderly Parents Into Your Home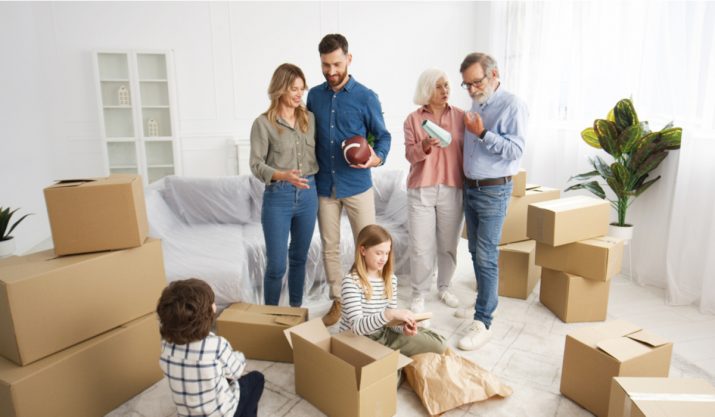 Table of Contents
Planning on moving elderly parents into your home? This guide is the best place to start. We'll outline everything you need to know to make the transition smooth for you and your aging parents.
The transition of taking care of the ones who took care of us – our parents – can be challenging for both parties. It weighs heavily on the minds of more than 17% of Americans.
If you're planning on moving your elderly parents into your home, you might be overwhelmed by your growing to-do list. After all, you'll be planning the move and helping manage their medical care, living space, finances, and social needs once they're settled in.
Your parents, whether they're moving in with you voluntarily or begrudgingly, are also going to face a variety of challenges. Leaving their beloved home, loss of privacy, downsizing possessions, increased reliance on you, and a perceived loss of control can all plague elderly parents when they move in with you.
Creating a solid plan will help you better navigate this bittersweet time in your and your parents' lives. We'll walk you through the steps to successfully move your parents in while keeping stress and disruptions to their daily routines to a minimum.
Creating A Support Network
Moving your parents into your home usually means you become their primary caregiver. While it's rewarding, caregivers often deal with high levels of stress. More than 36% of primary caregivers say the situation is highly stressful. It is essential to have a good support system in place for both yourself and your parents.
You'll need to know you have someone to fall back on if you're caught up with work or other responsibilities. Your parents will need support as they get used to living in a different area, experience changes to their daily routines, and navigate new medical and privacy issues.
Developing a support network means identifying the people and organizations that can step in and offer help as you take care of your elderly parents. You can set up a support network to regularly share in the responsibility of caregiving, step in to help when you're feeling overwhelmed, and offer support for your parents' ongoing needs.
Creating a strong support network starts with identifying who you can trust with tasks related to your parents' care. Their availability, skills, and proximity will weigh into the type of support they may be able to offer.
Identifying Support Groups
Identifying support groups for you and your parents will make the process easier. You might be surprised by the number of resources you have at your fingertips! The first line of support for most adults caring for their elderly parents is family.
Your children, spouse, siblings, and other close family members are a wonderful resource to tap into. They have existing relationships with your parents, which makes the move-in transition and life after the move easier.
Consider holding a family meeting to find out which family members you can count on to divide caregiving responsibilities and how their special skills or preferences can translate into helping care for your parents. Even younger children can be part of a support network by regularly visiting or video chatting with your parents.
Trusted friends also make a wonderful addition to your support group. Some might be able to help transport your parents to medical appointments, prepare meals, or come by for a social visit. Even if they're just around to get you out of the house and take a break from caregiving, don't forget to include your friends in your support group planning.
Your parents' community ties are another great source of support. Their church, senior center, exercise groups, and nearby friends can all offer them a reason to get out of the house or spend some socially stimulating time with others.
Finally, there are many caregiver support programs you can join. Other caregivers know the joys, stress, and challenges of moving aging parents into the home. Talking to others who understand makes a world of difference. You can find support groups that meet virtually or in person, depending on your preference and proximity to meetings. You can find a full list of support groups you might benefit from here.
Getting Needed Medical Care
Once you've created a viable support network for yourself and your parents, the next thing to consider is how you'll ensure they get the medical care they need. This includes transportation to and from doctors appointments, scheduling in-home visits and physical therapy, providing accessibility around the home (if they are limited in mobility), and ensuring prescription medications are taken at the proper times each day.
The best way to responsibly oversee medical care for your parents is to know exactly where they stand. How much assistance will they need getting medical care and performing activities of daily living (ADLs)?
If your parents are quite active and able-bodied, they may be able to transport themselves to and from doctor visits, manage their own care, and take their medications without assistance. In this case, it's still helpful to write down a plan so you know about their appointments, prescriptions, and special dietary needs in case you need to step in later.
If your parents need you to take full control of their medical care, you need to develop a good relationship with their doctors and medical staff. Make sure you are available to schedule, transport, and accompany them to appointments. Ask questions and take notes. You can make use of alarms and apps to ensure they're taking medications at the right times each day.
The Financial Factor
Next on the list of preparing to move your parents in is what looms foremost in many of our minds: The financial factor. You need to know what expenses come along with this transition.
A study by AARP found that adult child caregivers spend an average of $7,400 out of pocket each year. Another study by Genworth saw families spending more than $10,400 each year on things related to elderly parent care.
Common costs related to moving your parents in with you include:
Professional caregiving, in home care, and medical costs
Modifications to make your home wheelchair or walker accessible
Food, clothing, and other monthly expenses
Increased utilities and transportation fees
Lost income from time taken off work to care for parents
Packing and moving expenses
Planning to move your parents in can be less expensive when you strategize. Maybe your parents can help with your mortgage or rent. Perhaps they can help foot the bill for any accessibility modifications they need. Your siblings may be able to offer financial help for their caregiving and in home care as well.
If you will need to make renovations to your home to make it accessible for your parents, you might consider looking at an option like a "granny pod." These are specially designed tiny houses (typically 300-500 square feet) that you can have built on your property.
You can arrange for all kinds of accessibility features to be built into a granny pod, from wheelchair ramps instead of stairs to grab bars in the bathroom shower for safety. At an average cost of around $52,000, this might be a more economical solution than making widespread renovations to your current home. It also offers your parents more privacy and independence.
Planning A Move
Careful planning makes any move go more smoothly. Before you move your parents into your house, you'll need to strategize and plan out how you'll make it happen as seamlessly as possible. Here are a few key things to make sure you have planned out.
The cleaning, preparation, and sale of your parents' current home
Scheduling a home safety evaluation to ensure your home is safe for your parents
Sorting, downsizing, and organizing your parents' possessions for the move
Building a team to help pack and move their belongings to your home
Researching to find a full-service moving team to pack and move their belongings
Arranging comfortable transportation for your parents if the move is long
Planning the layout and furniture placement where your parents will live in your home
Creating lists of resources your parents may need in your area – banks, pharmacies, doctors, grocery stores, churches, senior centers, etc.
Planning easy meals for moving day
Keep your parents in the loop throughout the planning and moving process. This ensures their desires and needs are met while reassuring them that you will respect their independence and preferences.
Making The Move
Whether the move is across town or cross-country, the actual move is where things can get a little hairy. Proper planning will make the move as stress-free as possible, and knowing what to expect during the move helps a lot. Moving day is the time to put your plans into action.
On moving day, you'll want to ensure first and foremost that your parents are informed about the process and are comfortable. If it's a short move, transporting them to your home won't be an issue. But a long-distance move can be stressful or painful for aging parents, so comfortable transportation with planned bathroom breaks and overnight stays in a hotel can make all the difference.
Your support network – siblings, children, spouses, and friends – will be a major part of making moving day a success. Even if you've hired a full-service moving company to pack and move their possessions, you may still need to handle unpacking and putting everything away. Many hands make light work, so don't be afraid to corral as many people as you can for the big move-in day!
If you are moving your parents into a granny pod or connected apartment, make sure you've set up somewhere for them to comfortably rest while their belongings are being brought in and unpacked.
Once everything is unloaded and put into its new place, your parents will need some time to settle into their new space and rest up from the big day. Save the celebration for another day to allow them time to decompress. After all, this is a major change for them.
What If My Parent Needs Lifelong Care?
Maybe you've already moved your parents in with you and realize their care needs are increasing or demand more than you can provide. Perhaps you're planning the move and know they'll need lifelong care.
It's never easy to face the fact that your once-active parents are getting older and are able to do less and less for themselves over time. If your parents will need long-term care insurance that goes beyond your capability or availability, you have two options:
Hire professional caregivers to manage their care
Move them into an assisted living facility, senior living facility, or nursing home
Choosing to hire professional caregivers or in-home nurses can ensure their personal care, medical needs, daily activities, and meals are taken care of without overwhelming you. The downside is that round-the-clock care is expensive. Your parents may be able to cover the financial arrangements, but if not, you can check out this list of government resources that can help pay for the costs of elderly care.
Moving your parents into a nursing home or assisted living facility is another option. While it's hard to make a decision that takes your parents out of your home and into the care of non-family members, it's often the best option for parents with serious health issues.
It's also the best option if your work or family obligations don't leave you with enough time to offer full-time care. There are a variety of resources you can tap into for help with nursing home care costs. If you plan for it in advance, you may be able to help your parents get long-term care insurance that offsets the cost.
Final Thoughts
The prospect of planning and executing an aging parent move can be overwhelming. But with the right resources and plans in place, the process can be less stressful and even enjoyable for you and your parents.
You'll get the honor of caring for the people who raised and cared for you, spending more time with them, and ensuring they get the very best care in a familiar home setting. They'll be able to strengthen their connections to you, feel comfortable in your home, avoid loneliness, get help with daily activities and care, and spend more time with the grandchildren without worrying about their safety and health.
By creating a support network, properly managing finances, strategically planning the move, and considering your options if they need lifelong care, you'll ensure these years of your parents lives are as peaceful and happy as possible. They deserve it.