How to Stay Healthy While in Isolation: Advice from an Astronaut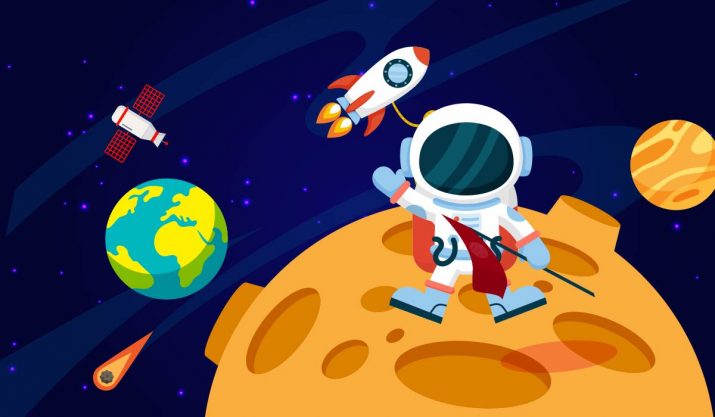 The outbreak of the Novel Coronavirus COVID-19 has had a huge impact on our society and our way of life, and it will continue to do so for an unforeseen amount of time.
Medical experts and government officials are asking people to self-isolate for 14 days if they have been exposed to someone with the virus.
In many areas, people are being told to stay home unless they must buy groceries, go to the pharmacy, or take care of any other essential needs.
While this may help slow down or stop the spread of the virus, it can also create excessive stress for many seniors.
According to a report from the National Academy of Sciences, seniors may be more susceptible than others to the negative effects of isolation. Some people may experience a case of "cabin fever" while being isolated for a long period of time. If you are spending time isolated in your home either by yourself or with family members, it's important to find ways to cope with the stress this creates so you don't have to feel you are losing your sanity.
The Science Behind the Effects of Isolation
Social distancing and isolation can have negative effects on people both mentally and physically, including an increased risk of heart disease, dementia, depression, and death. In fact, Julianne Holt-Lunstad, a Brigham Young University research psychologist claims that long-term social isolation can raise the risk of mortality by about 29%.
We can see evidence of these negative effects by studying the experiences of those who are isolated while working in polar outposts. According to a Reuters article, researchers studying the psychological impact on people working in isolated polar stations found that approximately 40 to 60% show signs of depression, irritability, sleep problems, and conflict with other workers. This phenomenon is called "polar madness," and some of these same symptoms may show up in people who are living alone or with just a few family members for an extended period of time in isolation or self-quarantine.
If you are a senior who is isolated at home, there are things you can do to cope with your situation and stay mentally strong. Below are some tips to start with.
1. Stay on Schedule and Keep Your Routines
In a New York Times Op-Ed, Scott Kelly, a retired NASA astronaut, talks about the time he spent living on the International Space Station for almost a year and how he had to learn to adapt to living in an isolated environment. He says that sticking to a schedule can help you and your family adapt to your new living situation if you are all at home in isolation.
Keeping some kind of schedule will also help provide you with structure, which is important for your mental and physical health. If you normally wake up, go to sleep, and eat your meals at certain times, you should continue to do so. Staying on a set schedule may help you get better quality sleep. According to Kelly, NASA scientists who monitor astronauts' sleep while in space have found that the quality of a person's sleep can directly affect mood, cognitive abilities, and relationships with others.
If you normally watch a morning show on television or read the news, you should keep following your routine so you can make your days feel as normal as possible. If you normally go outside for fresh air every day, you should continue that as well if possible, as long as you stay away from other people.
2. Try Some Hobbies
This time of social distancing can be a great time to engage in some of your favorite hobbies or even try some new ones. Kelley took books with him into space in an effort to unplug, and if you're an avid reader, it may be time to read some new material. While many bookstores and libraries may be closed, if you own an e-reader, such as a Kindle, you can use your library card to borrow books online or purchase them through an online retailer.
If you have the appropriate materials and equipment at home, you could use this time to do some gardening, knitting, sewing, DIY projects, or arts and crafts projects. And if you are self-isolating with family members, you could play games, do puzzles, watch old home movies, or bake some cookies.
3. Stay Active
The National Institutes of Health recommends that adults should do at least 2 hours and 30 minutes per week of moderate-intensity exercise or 1 hour and 15 minutes of vigorous exercise. Even if you need to stay at home, you should make sure you stay active. Whether you try some workout DVDs or YouTube videos, or do calisthenics or chair exercises, it's important to exercise daily. Getting regular exercise can help you feel better, maintain your weight, improve your strength, increase your energy, boost your mood, improve your sleep, and reduce your risk of certain diseases. This is crucial to your health regardless of if you are in isolation or not.
4. Connect with Others
You may have to stay isolated for some time, but that doesn't mean you have to completely disconnect from friends and family. The National Institute on Aging suggests that isolation and loneliness can contribute to certain health risks, such as depression, heart disease, and cognitive decline.
Staying connected to others can help reduce the negative effects of the anxiety and stress created by isolation. You could use a tool such as FaceTime to make video calls with your kids and grandkids or email your friends.
If you are not active on social media, now might be a good time to try Facebook or Twitter. Using social media also allows you to connect with online communities of other people who have similar interests, and it can be a great way to pass the time and help prevent boredom.
Being isolated for an extended period of time can create undue stress that could leave you feeling as if you're losing your sanity, so as you continue to practice social distancing measures and isolate yourself, keep these tips in mind. Sticking with your usual routines, finding fun things to do, getting daily exercise, and connecting with others can help you cope during this difficult time.