5 Tips for Being a Successful Long-Distance Caregiver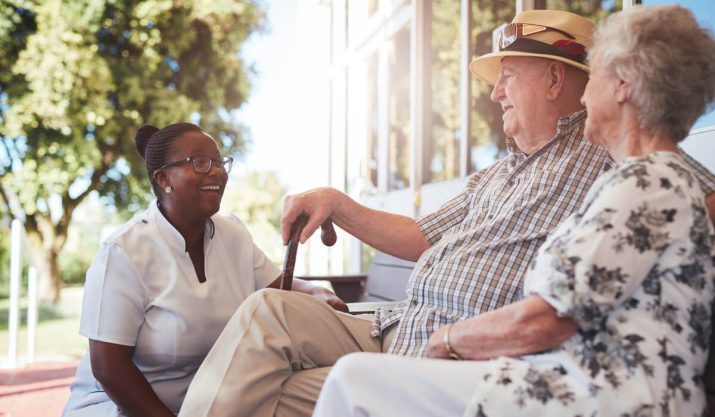 Table of Contents
Maybe you've recently become responsible for your senior parent's care. Perhaps a senior friend needs your assistance, or you've volunteered your time for another care recipient in need. You're eager to help, but don't live within an hour of the care recipient and are unable to move.
You're not alone—according to AARP, 11% of family caregivers live at least an hour away from their senior loved one. Long-distance caregiving requires work and skill, but it is absolutely manageable with the right support system.
Being a successful long-distance caregiver is all about preparation and communication. Learn everything you can about your care recipient's needs and build a team to help you meet those needs. Develop a communication system and maximize each in-person visit. Taking these steps (along with setting aside time to care for your own needs) will ensure a healthy and happy caregiving relationship.
Key Takeaways
Educate yourself on your care recipient's needs and living situation.
Build a diverse team to support your loved one closer by.
Establish a communication schedule and method.
Make the most of every in-person visit.
Take the time to ensure your own care needs are met.
1. Get in the Know
If you're about to become a long-distance caregiver, educating yourself is crucial so you can come prepared. Start by reading up on any illnesses or health conditions your family member or care recipient may be navigating. Next, you'll need a breakdown of their specific needs—the medications they're taking, the tasks they might need help with, or their doctor's appointment schedule.
Ask the person you'll be caring for about their living situation—if their accessibility needs are met within their home, if they have a secondary support system nearby, and if any resources are unavailable to them.
It's a good idea to request access to all the information you can such as medical records or legal and financial documents. This will help you assist from afar as needed. It may also be helpful to make sure someone who lives close by has access to essential documents as well.
Take some time to sit down with your care recipient (or chat on the phone) about an emergency plan. Should anything happen while you're away, you'll be much more at ease knowing there are steps in place to keep your care recipient safe. Even if you're with your family member or care recipient during an emergency, you'll both be much calmer if you're prepared for any scenario.
2. Put a Team Together
Getting a team in place to care for your friend or family member is not unlike building a team for a project at work. You want to harness various skills and knowledge while ensuring no one is stuck doing all the heavy lifting. It's always a good idea to have someone who lives near your care recipient on your "team." Even if you're the primary caregiver, having backup within a closer radius can never hurt.
If you're caring for a family member, call a family meeting to get your siblings, cousins, or adult children involved. Distributing the work among a larger group of relatives will alleviate some pressure. You and another family member can split duties as primary caregivers, or one of you can act as a sub as needed.
It's also essential to include your care recipient's medical team. Communicate with their doctors regularly, and remember that they're a valuable resource and that they likely know what you're going through. In addition, it may be worth investing in on-site care like a nurse, aide, or other home care specialist to help your care recipient with any medical needs.
It may be worth investing in other team members like a driver, therapist, social worker, or assistant. Acting as a primary caregiver requires a lot of emotional labor, and you'll need help with logistics and errands as well as mental health maintenance (for you and the person you're caring for).
3. Communicate
One of the most critical parts of long-distance caregiving is constant communication. Let your care recipient know your preferred communication method, and set up regular times to talk and check-in. Find a system that works for both of you—whether it's phone calls, video chats, a texting thread, or social media. You may even want to start an email chain for important documents and calendar updates.
In some cases, it may give you peace of mind to monitor your care recipient remotely. For example, consider a wearable device or home alarm and camera system to keep tabs on your care recipient even on days when you don't visit or hear from them directly.
4. Get the Most Out of Visits
Visits with your care recipient are valuable to any long-distance caregiver. Face-to-face time will give you a clearer picture of how your care recipient is doing.
While visiting, check in on the house to make sure everything has been kept up nicely. Look for potential accessibility needs and ensure your care recipient can still navigate their space freely. You can also use this time to meet with the rest of your team—check in with doctors, therapists, and drivers.
If you've hired on-site care, check for signs of abuse (as elder abuse is unfortunately common). These signs may include unexplained injuries, unexplained loss of money, anxiety/depression/confusion, withdrawal from loved ones, or poor hygiene.
Above all, during visits, you should bond with your care recipient and carve out time for some fun together. Take your care recipient out to lunch, for a walk in the park, or to see a movie.
5. Make Sure You're Creating Space for Yourself, Too
Being physically distanced from your care recipient comes with many challenges. You may feel out of control when you have to delegate to local caregivers and other team members or overwhelmed when caregiving tasks come with added complications. The emotional stress is only exacerbated when your care recipient is an elderly parent or family member.
This is why it's important to ask for help when necessary. Reach out to friends and family for support—even if they're not official caregivers, they can always provide a hot meal or a shoulder to cry on.
Tap into resources in your community. For instance, if your care recipient suffers from Alzheimer's or dementia, use the Alzheimer's Association Community Resource Finder or community message boards. Online resources are also available from other nonprofits like MJHS or the Benjamin Rose Institute on Aging.
If all else fails, carve out some time for self-care. Unwind after a day of caregiving by taking a long walk, reading a lighthearted book, or enjoying a cup of tea.
Imagine your time and energy as a cup. You need a full cup to function healthily, so keep your cup overflowing to give your all to others (including your care recipient or aging parent).
The Bottom Line
Developing a care plan for a senior family member, friend, or another care recipient can be daunting. A detailed plan of action is needed, including a schedule, delegation of tasks among team members, and emergency protocol.
Even once the care plan is set in motion, life changes for all involved can take some adjustment. As a long-distance caregiver, your daily responsibilities will change, and the way the household runs for your care recipient may shift.
This is why it's crucial to take steps to make the caregiving process as smooth as possible and reduce stress. Educate yourself on your care recipient's background and needs, develop a thorough emergency plan, and build a diverse team to cover all of your friend or family member's needs. Make sure you're communicating regularly, making the most of each in-person visit, and taking time to fill your own cup as needed.
Finally, remember that resources are always available to you through organizations like the Alzheimer's Association, MJHS, or the Benjamin Rose Institute on Aging. Additional resources include the Caregiver Action Network, National Caregivers Library, CancerCare, and SeniorNavigator.
Questions Others Are Asking
What are signs of elder abuse?
According to the National Council on Aging, one in ten Americans aged 60+ has experienced elder abuse. Common signs include injuries (i.e., bruises or cuts), weight loss, poor hygiene, anxiety/depression/confusion, withdrawal from loved ones, or unexplained loss of money.
How do I talk to elderly parents about assisted living?
If your elderly parents are resistant to moving to assisted living, remind them that the move may offer them more independence than an in-home caregiver. Research quality assisted living facilities nearby and present your parent with options. It might even be helpful to remind your parent that you'll help with the physical move and will visit them just as much.
What should I know about a care recipient's finances?
Make a financial plan upfront with your care recipient. Find out if you can access your care recipient's bank account, who will be in charge of paying bills, and whether you will be reimbursed for care expenses. Make a plan for paying your caregiving team, and determine whether your care recipient will assist you in paying for your own care.