Caregiving Statistics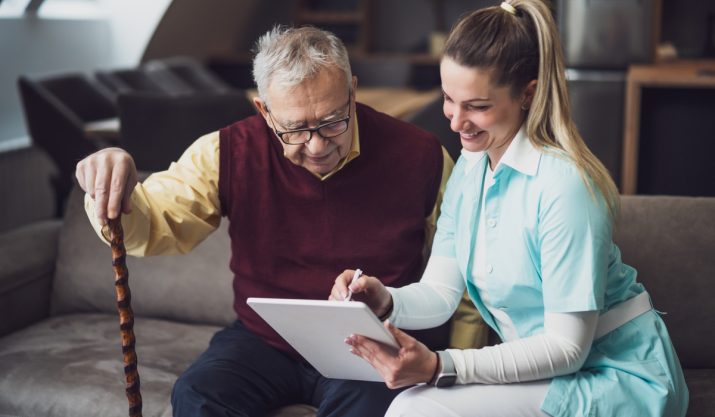 Table of Contents
Caregiving is a vital part of our healthcare system, but it often doesn't get the attention it deserves. In this article, we're putting caregivers in the spotlight. We'll dive deep into the numbers, exploring key caregiver statistics in America.
Join us as we reveal the real picture of caregiving and celebrate the everyday heroes who make a huge difference in our society.
Key Takeaways
Caregiving is a diverse role that encompasses both informal (family and friends) and formal (trained professionals) caregivers.
Over 53 million Americans provide unpaid care to family members or friends, greatly enhancing the well-being of those they care for.
Caregivers of different age groups face significant challenges balancing caregiving duties with work, family, and other obligations.
What Is a Caregiver?
A caregiver offers help or takes care of someone else, often a family member or loved one who cannot care for themselves. This help could range from assistance with everyday tasks, such as cooking, shopping, and cleaning, to providing more intensive support like personal care or managing physical health conditions.
Caregivers come in many forms, from family members volunteering their time to professionals in the healthcare sector. Regardless of their background, caregivers share a common goal: to improve the well-being and mental health of those under their care. Some of the biggest names to look out for in caregiving are the National Alliance for Caregiving and AARP.
Caregiver Statistics
There are different types of caregiving based on the nature of the care provided, the relationship between the caregiver and the care recipient, and the setting where the care occurs. Here we focus on two broad categories: informal and formal caregiving.
Informal Caregiving
Informal caregiving involves assisting and supporting needy individuals, typically through family members or close friends. This type of caregiving is based on a personal relationship between the caregiver and the recipient. Informal caregivers often take on various responsibilities, including assistance with daily activities, emotional support, and care coordination.
Some statistics about informal caregiving:
Formal Caregiving
Formal caregiving involves trained professionals, such as doctors, nurses, home health aides, social workers, and other healthcare providers, who are paid for their services and care. These caregivers, who have access to caregiving resources and may be covered by health insurance, often work in home care, nursing homes, assisted living facilities, or hospitals.
Some statistics about formal caregiving:
The U.S. had roughly 3,636,900 home health aides and personal care aides in 2021.
Personal care and home health aides are among the fastest-growing occupations in the U.S., expected to grow over 25% from 2021 to 2031.
The U.S. had around 65,600 regulated long-term care facilities serving over 8.3 million residents in 2016, highlighting the significance of caregiving in such settings.
The average caregiver's salary is $29,976 annually, depending on location, company, education, and experience. Live-in caregivers have a national average salary of $37,603 annually (2022).
Caregivers in the U.S.
Caregivers play a crucial role in the United States, providing vital support and care to individuals with various needs. The following statistics shed light on the prevalence of caregiving in the United States:
Caregiving Tasks
Caregiving tasks encompass various responsibilities and activities that caregivers undertake to support their care recipients. Here are some statistics related to caregiving tasks:
41% of caregiving recipients need assistance with mobility, such as getting out of beds and chairs, 31% need help with dressing, and 22% require aid with toileting (2019).
Working caregivers now perform more instrumental activities of daily living (IADLs) than in 2015, including increased housework (78% vs. 71% in 2015) and meal preparation (61% vs. 56% in 2015) (2020).
Approximately 34% of caregivers who did not have a choice in assuming caregiving responsibilities find managing finances time-consuming, compared to 23% of caregivers who had a choice (2020).
At least one ADL (activity of daily living) is provided by nearly 68% of caregivers whose recipient resides in their home (2020).
Caregivers providing care to a spouse/partner are more frequently involved in medical/nursing tasks (72%) than other caregivers (56%). Additionally, caregivers who live with their recipients are more likely to assist with medical/nursing tasks (70%) than those who do not live together (49%) (2020).
Caregiver Age
The age of caregivers can vary significantly, with individuals from different age groups taking on caregiving responsibilities. Here are some insights and statistics related to caregiver age:
The average age of caregivers is roughly 49.4 years old (2020).
Approximately 22.3% of adults aged 45 and above in the United States provide care or assistance to a loved one needing help during any given month (2018).
Despite their frailties and old age, caregivers aged 75+ develop coping strategies, including purpose reminders, humor, instrumental support, and improved decision-making, to manage their own health and caregiving responsibilities (2020).
Younger caregivers (ages 18 to 49) are more likely to report fair or poor health (21% in 2020) and less likely to say they are in excellent or very good health (40% in 2020) compared to 2015 (15% and 52%, respectively).
Over 3.4 million child caregivers contribute to the caregiving landscape in the United States, adding to the complexity and scope of caregiving (2020).
Care Recipient Age
Though the age of care recipients can vary, a significant proportion of care recipients tend to be older individuals, usually in the "boomer" range (57-77). Here are some insights and statistics regarding the age of care recipients:
According to the National Alliance for Caregiving, caregivers of the oldest recipients (ages 65 and older) face increased difficulty with care coordination compared to previous years (2020).
Older recipients (age 65 or older) receive assistance more frequently from paid and unpaid sources than younger recipients (ages 18 to 64) (2020).
The presence of multiple conditions among older care recipients has increased, with 45% of caregivers reporting two or more conditions for those aged 50 or older, up from 38% in 2015 (2020).
Most caregivers (79%) provide care for adults aged 50 years or older, while a significant proportion (76%) of care recipients are 65+ (2020).
Caregiver and Care Recipient Relationships
The relationship between caregivers and care recipients shapes the caregiving experience. Here are some insights and statistics related to the caregiver and care-recipient relationships:
About 89% of caregivers are related to their care recipients in some way. The most common relationships include caring for parents or parents-in-law (50%), spouses or partners (12%), grandparents or grandparents-in-law (8%), and siblings or siblings-in-law (7%) (2020).
91% of caregivers caring for a spouse/partner solely focus on their care. In comparison, 26% of caregivers caring for other adults (parents, relatives, non-relatives) care for two or more individuals (2020).
The living arrangements of care recipients vary based on their relationship with their caregivers. For instance, 90% of spouses or partners of caregivers live with their caregivers. In comparison, the percentage is lower for parents or parents-in-law (34%), other relatives (36%), and non-relatives (17%) (2020).
Caregivers of older adults may find caregiving more rewarding when they have a positive relationship, emphasizing the importance of nurturing and maintaining these relationships (2022).
Caregivers may feel more rewarded when caring for someone with fewer disabilities, suggesting that the required assistance level can impact the caregiver's experience (2022).
Caregiving in Rural Areas vs. Cities/Suburbia
The caregiving experience can differ between rural areas and urban/suburban areas. Here are some insights and statistics about rural caregiving you may be interested in knowing:
The typical caregiver of someone living in a rural area is a non-Hispanic white woman, 48.8 years old, who usually cares for a parent or parent-in-law who is 66.9 years old (2020).
Caregivers in rural areas tend to have lower education and household income than caregivers in suburban or urban areas (2020).
Caregivers in rural areas provide care for an average of 4.2 years and spend more hours per week providing care (26.3 hours on average). They often assist with medical/nursing tasks and help with a greater number of activities of daily living (ADLs) (2020).
Many caregivers in rural areas are the primary unpaid caregiver and often have no paid help. They may face higher levels of financial strain and experience greater economic impacts due to caregiving (2020).
Residing in rural areas raises the probability of family caregiving by 59%, whereas living in the western region of the United States decreases it by 37% compared to the Northeast (2020).
According to AARP, 11% of family caregivers live at least an hour away from their senior loved one.
Time Spent Caregiving
The amount of time caregivers dedicate to providing care can vary significantly depending on the needs of the care recipients and the intensity of caregiving required. Here are some insights and statistics related to the time spent on caregiving:
On average, caregivers in the United States spend approximately 23.7 hours per week of part-time care on their recipients (2020).
One in three caregivers provides care for 21 or more hours per week, while 21% consider caregiving full-time, requiring 41 or more hours per week (2020).
Caregivers who live with their recipients tend to provide more hours of care per week. Those caregivers with no help, paid or unpaid, provide care for an average of 27.4 hours per week. In contrast, caregivers who receive assistance provide care for an average of 21.7 hours per week (2020).
Duration of caregiving influences the time spent. Caregivers providing care for less than one year spend 22.9 hours per week, those in the 1-4 year range spend 20.9 hours, while those with 5+ years of experience dedicate 27.5 hours per week on average (2020).