Grocery Delivery for Seniors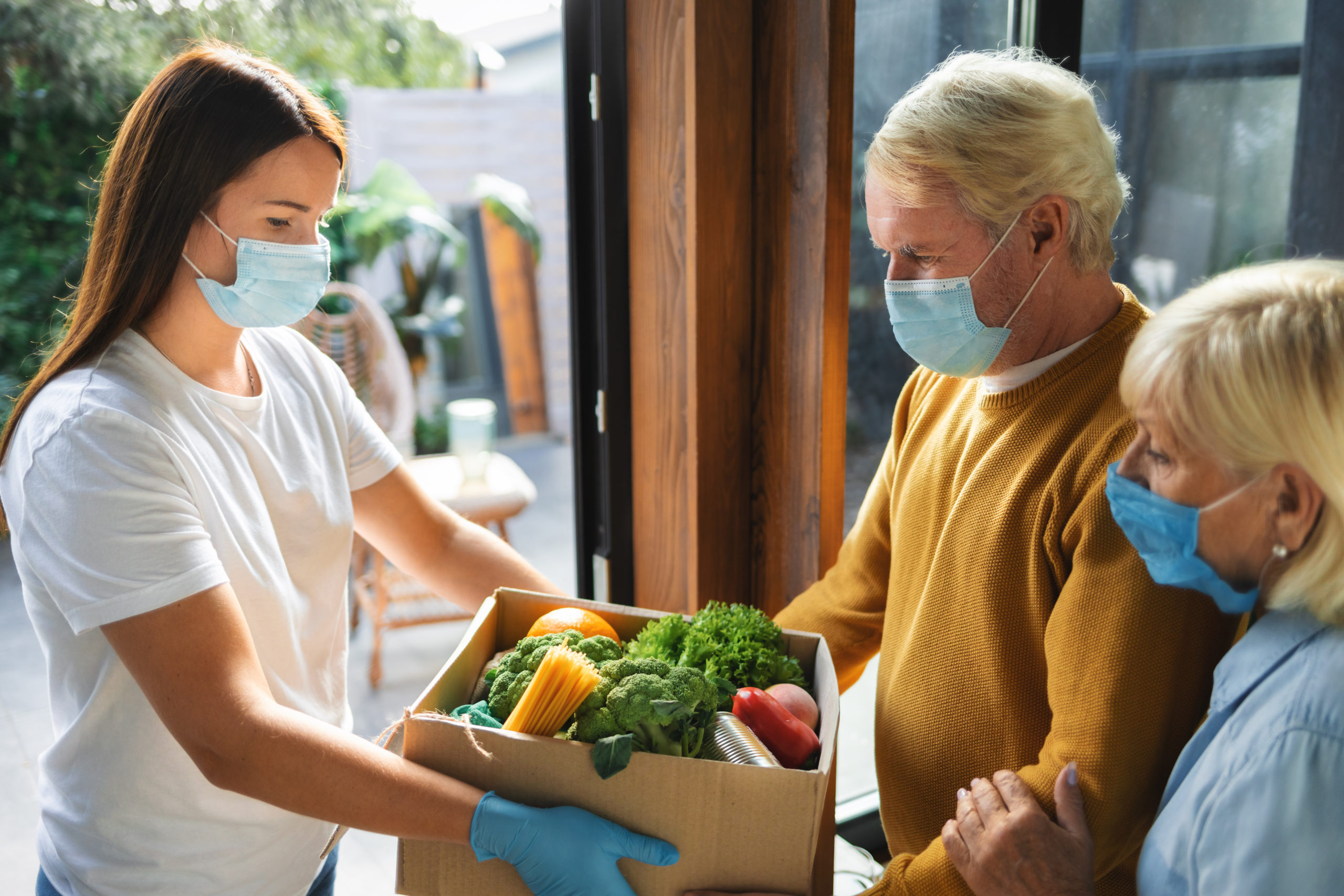 You know that feeling when you get home after a long day, and all you want to do is find something quick and easy to eat? For many seniors, this can be difficult because of their limited mobility, among other issues.
But with the help of some of the latest grocery delivery services, they are able to order just what they need with just a few clicks. Here are some of the best grocery delivery programs for seniors to consider.
Top Choices
Easiest to Use: Instacart
Most Affordable: Walmart-Postmates
Fastest Service: AmazonFresh
Most Loved Online: Shipt
Full List of Options
1. AmazonFresh
| | | |
| --- | --- | --- |
| Minimum Order | Delivery Fees | Membership |
| No minimum. $35-$50 to qualify for free shipping if you're an Amazon Prime member. | $0 | Amazon Prime Membership $119/year OR$14.99/month |
If you love the convenience of Amazon Prime, then this is your grocery delivery service. For $119 a year, you get the benefits of their Amazon Fresh service where they'll bring groceries right to your doorstep in as little as two hours.
Features and Benefits
Same day and next day delivery options
Free with a Prime membership
Delivers all kinds of food products, including fresh produce and meat
Pros
Can be used with SNAP EBT benefits
Drop-offs and pick-ups available
Free with Prime
Fast
Cons
Does not deliver to dorms
Not available in all areas (limited delivery range)
Can be expensive if you don't already have Prime
More Details
Amazon Fresh was once featured as an add-on service to Prime that cost an extra $14.99 per month and while you can still subscribe separately to this service, it is now included in the cost of a Prime membership. If it's available in your location (you can't access it everywhere in the country) you can get fresh milk, meat, produce, and more delivered to your doorstep by Whole Foods, Market 36, and more.
Most of the time, groceries are delivered in just an hour – but you can also schedule a pick-up. Customers who have SNAP EBT cards receive free access without monthly membership, too.
You can sign up for Amazon Fresh here.
Online Reviews
In general, people seem to enjoy Amazon Fresh, but some complained about receiving the wrong items.
"Once you get the hang of grocery shopping online (it took me a bit to get used to since I'm a "walk down every aisle" shopper), this service is great. Be careful to check the size of the products you're ordering but delivery is reliable and they do a great job with keeping and storing food fresh and refrigerated/frozen in coolers as necessary.
–Ryan N, July 2020, Influenster.com
"Twice, they didn't deliver to my door. They left it in the lobby. I had to go down 4 flights of stairs, back up, back down, many times with VERY heavy boxes. This took me about 20 minutes and was about 40 flights of stairs total, because I'm not strong and the boxes were heavy. I have health issues and problems with my legs, and this was very bad for my health. They only wanted to give me a discount, and were not willing to have the driver return to actually deliver it. This is also not OK because the packages can get stolen when they are left out there for anyone to take — I live in NYC. They told me the driver should have taken it to the door, because I selected "attended." So I paid for a service they didn't provide. I was out of breath and drenched with sweat to the point I had to change my entire outfit, my health suffered, and I had to spend 40 minutes with them in chat and in phone calls for them to not make it better. So I will never use them again. If you have loved ones with injuries, health issues, elderly, etc., or people who simply can't lift or carry a lot of weight up stairs, please let them know NOT to use this service. Which is unfortunate since these people NEED grocery delivery the most. Maybe it's better in other states? But this is in NYC. Friends in Arizona also told me they have had bad experiences not having it delivered to the door."
–Julie M, February 2020, Influenster.com
2. Shipt
| | | |
| --- | --- | --- |
| Minimum Order | Delivery Fees | Membership |
| No minimum order (free delivery $35+) | $7 | $99/year for free unlimited delivery on orders $35+ |
Summary
Shipt is a grocery delivery service that is similar to its more well-known cousin, Instacart, which we will review below. It is somewhat less widespread but can be a better option, costing just $99 per year for an annual membership. You'll receive access to your own personal shopper who you can text directly with your instructions and requests.
The minimum order is $35 for free delivery, but otherwise, your orders can be as small or large as you'd like.
Features and Benefits
Low annual subscription cost
Upcharge on items compared to in-store prices
Same-day delivery available
Pros
Easy to communicate with shopper
Low annual membership fees
High product quality
More control over the buying and delivery process
Cons
Limited service area
Higher overall cost
More Details
Shipt is useful for shoppers who have more unique dietary needs since you can message your shopper directly. You can also order items that might not be listed on the app. This program delivers not just from grocery stores but also from pharmacies like CVS, making it a good option for seniors who need things delivered besides just food.
Shipt treats its delivery drivers well, allowing workers to schedule their hours in advance. The company has a 3.4 star rating on Indeed.
Plus, you'll get a $10 credit every time you refer a friend to Shipt! You can read more about Shipt's referral program here.
Online Reviews
For the most part, Shipt hits it out of the park – and that's something that's recognized in its online reviews. Customer service here is ranked as some of the best, though some people complain about the timeliness of the service.
"The customer service was great and I would definitely use this service again if I had the money for it. They were nice, helpful and even offered a discount for trying to keep the service but I didn't have money for it. The people that communicate with me during the shopping are great as well and they really do seem to care about getting you what you want/need and I would say they are the best delivery service out there 100%!"
-Kelsey B, April 2021, Trust Pilot
"I ordered my groceries early Saturday morning for a 7pm delivery. No one picked up my order to shop it until the next morning. My daughter said you need to add a big tip up front to get it shopped. This just doesn't sit good with me. I planned on tipping when they dropped the groceries off. I won't be using them again. Why even list a time? It should say we'll bring your groceries when we feel like it. We're in the St. Pete/Clearwater area in Florida."
–Kathy J, April 2021, Trust Pilot
3. Instacart
| | | |
| --- | --- | --- |
| Minimum Order | Delivery Fees | Membership |
| $10 ($35 for free delivery) | $3.99 for same-day orders | Instacart Express for $99 – free delivery and reduced service fees |
Summary
Perhaps one of the most well-known grocery delivery programs, Instacart delivers from a wide variety of grocery stores (and in some areas, even pharmacies, pet stores, and liquor stores!). If you'd like, you can upgrade to Instacart Express for free two-hour delivery on orders over $35, which will also allow you to shop multiple stores within the same order.
Features and Benefits
You'll pay just in-store prices plus a delivery free
Can be used via a smartphone app or website
Pick-up options in addition to delivery
Membership options include free delivery no matter what
Pros
Easy to use
Excellent customer service
Can get medicines as well as pet supplies
Found throughout most of the United States
Membership can save you a lot of money
A variety of dietary preferences can be accomodated
Cons
Pricing can vary depending on which store you are shopping
5% service fee
Not the best option for just occasional shoppers
Can't use in-store coupons
More Details
There are lots of advantages to using Instacart. You can shop via the website or the app and will have access to a wide variety of stores. Although Instacart doesn't honor in-store coupons, it does regularly offer in-app discounts and new users always get the first order for free.
Instacart is a company that has been repeatedly praised for how it treats its workers – shoppers can work as full-service or in-store shoppers and they can schedule hours to fit their schedule.
This grocery delivery service also has a referral program. You can refer up to five friends by email, link, or Facebook, and you both will get a $10 credit on your orders (theirs on their first order and yours once their delivery is complete).
Read more about Instacart and sign up here.
Online Reviews
Unfortunately, Instacart doesn't have the best reviews on many platforms, like TrustPilot. While these should weigh into your decision-making process when searching for a grocery delivery service, do keep in mind that it's important to check local reviews for Instacart, as many of these vary widely depending on where you live.
"I have enjoyed using Instacart both as a customer and as a shopper. I appreciate the shopper and convenience of having my groceries brought to me anywhere… Order with an open mind chances are Instacart will be your new best friend. And if you are looking for work I highly recommend becoming a shopper just be careful what door you place your groceries by."
–KO, March 2021, Trust Pilot
-"My experience with the Instacart shoppers was consistently good. My problem is with the so-called "help" available online. Last week, my order was filled at a different King Soopers location than the one nearest me. It didn't have the same selection as my usual store. I went online to try to find out which store location would be used this week and I was told that "the system" would decide. So much for Instacart customer service."
–Wendy, April 2021, Trust Pilot
4. Walmart-PostMates
| | | |
| --- | --- | --- |
| Minimum Order | Delivery Fees | Membership |
| $30 | $7.95-$9.95 or unlimited free delivery for $12.95/month | $12.95/month or $98 for unlimited free delivery |
Summary
Love the convenience of Walmart but hate going into the store? If so, you should consider Walmart-Postmates, the newest partnership in the grocery delivery world.
Walmart has partnered with Postmates, the largest delivery network in America, to offer online grocery delivery. You can order anything you'd like, from fruits to seafood, and have it delivered right to your door.
Features and Benefits
You can place an order via smartphone app or website
Same-day delivery available
High-quality training program so shoppers always pick the best products to deliver
Pros
Wide range of options
Low prices without add-ons or hidden fees
Excellent quality control
Cons
Limited availability in many areas
New service so there are limited reviews
More Details
Since you're ordering from Walmart with this service, the quality of the products you receive can vary depending on the quality of the products at your local Walmart store. Customer service can also vary, but the personal shoppers who work for this service do undergo an extensive training program to teach them how to select the finest and freshest products.
Some drivers for this service have complained about how difficult it is for customers to tip them – so that's something you'll want to keep in mind if you decide to use this service. You can always tip your driver with cash but there's no way to tip via the app.
There is no referral program available for this joint venture, at least not at the time of writing this article. You can learn more about Walmart-Postmates, find out whether it's available in your area, and sign up for grocery delivery here.
Online Reviews
As with any of the other grocery delivery services we've reviewed, reviews of the Walmart-Postmates partnership are mixed. Here's what people had to say.
"I have only had great services with Postmates. My food has always arrived on time. I would definitely refer them to my family & friends."
–Tammy, March 2021, Trust Pilot
"This place is a scam. I'm shocked they are still in business. I kept trying to give them a second chance hoping it was just a fluke. Once, it kept pushing the delivery time back on an order and the deliverer's car wasn't moving so I called the driver and she was SLEEPING. Straight up woke her up. And she goes "sorry I am stuck in traffic". It was 2 AM!! There is no traffic ! And even if there is… you don't sit still for an hour. So I was like ok it's fine just please deliver and then 5 minutes later I get a text "your order has been canceled". I have had food that registered as delivered but never came. The ETA is always off by at least an hour. This place is AWFUL."
–Brazer, April 2021, Trust Pilot
5. Google Express
| | | |
| --- | --- | --- |
| Minimum Order | Delivery Fees | Membership |
| Varies by store – usually $25-$35 | Varies depending on retailer | $10/month or $95/year |
Summary
Also referred to as Google Shopping, Google Express is like a hybrid of Amazon Prime Pantry and Instacart. You'll be able to shop from stores like Target, Costco, and Best Buy – but the catch is that you can only shop for nonperishable items.
Features and Benefits
Choose when your groceries will arrive
Nonperishable items for sale
Shipping through common carriers like FedEx and UPS
Pros
Excellent referral program
Easy to place an order for someone else
Allows you to shop from anywhere
Cons
Minimum order and delivery fees vary
Only nonperishable items
More Details
With Google Express, you can shop for all the items you need – but only for nonperishables. This service is likely not the best option when it comes to shopping for fresh items like meat, seafood, and produce because of this.
The minimum order amount varies depending on where you are shopping and what store you have selected. Often, you'll get free shopping and same-day shipping is also offered, too. Delivery is generally done through carriers like UPS and FedEx.
There is also a referral program where you can receive a $10 referral credit for every new customer you refer – after they've placed their first order. Of course, with Google Express, you can easily place an order for someone else, like your parents, if you need to, too.
Find more information about Google Express here.
Online Reviews
It is challenging to find reviews solely for Google Express's grocery delivery service, particularly since the grocery delivery feature of this platform is freshly launched. However, you can find both praise and criticism for its other shopping services in several areas online.
"It' a time saver, first and foremost because shopping is done from home.It's convenient… It's fast. I never order from Target online because the shipping time is slow, but now it can arrive the next day. It's the best place for users to buy birthday presents. I will save money because I tend to impulse buy random things at Costco (and elsewhere) when shopping in person. I am more risk averse on the computer. I Will say that I do wish that fresh produce delivery was an option. At the moment, it's not an option for delivery via Whole Foods or Costco, but if you're a CSA subscriber or like to pick out your own, this won't be of concern. I am mostly a shopper of bulky nonperishable goods at Costco anyway."
–Katie D, April 2021, La Jolla Mom
"Products with handling time greater than four days are not shown in the Google shopping actions and other Google platforms. Orders not shipped within three days get automatically canceled by Google. Free delivery will be offered on a minimum cart value of $25or $35."
-Shivaani R, April 2019, Quora
6. FreshDirect
| | | |
| --- | --- | --- |
| Minimum Order | Delivery Fees | Membership |
| Usually $30 (varies depending on zip code) | Usually $5.99 (varies depending on zip code) | DeliveryPass is $79/six months or $129/year & offers free delivery and reserved time slots |
Summary
FreshDirect offers a diverse array of grocery delivery services to members and one-time users. You can not only get perishable and nonperishable grocery items delivered right to your door but you can also buy meal kits and CSA-like shares of produce from FreshDirect itself, too.
Features and Benefits
Subscription fee required
Can shop by dietary needs (like gluten-free)
Food comes straight from the company with no middleman
Pros
Easy to shop for special diets
Cost-effective
Offers its own sales and coupons to customers
Cons
Only offered in the Northeast
Website is not the most user-friendly
More Details
The biggest catch to using FreshDirect is that it currently only delivers in certain parts of the country (such as New England and the Northeast). If you are lucky enough to live there, though, this is one of the best options to consider. You can get all of the usual grocery store items as well as full prepared meals and meal kits from FreshDirect's own line of products.
The farmshare products here are similar to what you might get at a CSA, but with no long-term commitment and with delivery right to your own door. The FreshDirect referral program offers members a $25 credit for each new customer they refer.
Learn more about Fresh Direct's plans.
Online Reviews
There are many benefits to using Fresh Direct – customers love how easy it is to use and the wide selection of products you can receive. Of course, some customers complain about the customer service, something that we noticed is echoed in many of the reviews for other grocery delivery services we looked into, too.
"Fresh direct has been wonderful! Love the selection, the site is easy to navigate & there are some good deals depending on what you buy. Also I absolutely love that they carry good bagels. Out of my 5-10 purchases only one item was missing, and it was easy to mark it missing and get credit without a problem."
–Jahan H, March 2021, Trust Pilot
"I've been a customer of FreshDirect since the beginning, but I've just closed my account for good. Today was the third time in a row where crucial items were left out of my order and I wasn't informed until the delivery guy showed up all "Oh … customer service didn't call you to let you know? They should be calling you soon." Really? That's interesting considering the email order confirmation, and day of delivery text all said my order would be complete. So I call customer service, and they offer to get me the missing items in 3 days … AFTER the holiday for which I actually need the items. If I don't want that, then they can offer me a credit. Well that's convenient. That's exactly why I chose to shop online and pay extra for products and services – So I could be HUGELY inconvenienced at the last minute right before a holiday. Thanks freshdirect, for proving once more that if you want something done right, you should do it yourself. Perhaps if you improved your service to at least half of what it was, you wouldn't have to send dozens of emails begging customers to purchase your overpriced, and very unnecessary delivery pass."
–Robad, December 2020, Trust Pilot
7. Imperfect Foods
| | | |
| --- | --- | --- |
| Minimum Order | Delivery Fees | Membership |
| $30-$45 (depending on area) | $4.99-$8.99 (depending on area) | Reduced Cost Box program offers 20% discount on every order |
Summary
Imperfect Foods offers sustainable, affordable groceries to customers around the country. You likely won't save a ton of money when shopping with this grocery delivery service but it also won't cost you an arm and a leg, either – and it's a bit more environmentally friendly.
Features and Benefits
Multiple subscription options available (all fruit, all veggie, organic, etc)
Biweekly and weekly deliver
Ships produce with some imperfections to help save money
Pros
Farm fresh produce
Some products are locally sourced
Cons
Items are often out of stock
Some low-quality produce
More Details
Some customers of Imperfect Foods have complained that the groceries they received were just that – imperfect. With this delivery service, you really do get what you get – it can be a somewhat pricey way to get undersized or low-quality food. However, it's a good option if you're interested in sustainability.
It does have a refer-a-friend program in which you can get a $20 credit for referring new customers.
You can view more information on Imperfect Food's subscription options here.
Online Reviews
Online reviews for Imperfect Foods are better than they are for many other grocery delivery services. While the quality of your delivery can still be hit or miss, you'll find more praise than criticism for this grocery delivery option.
"How can this be about food waste when half the food is never delivered and the other half is moldy or rotten within days of arriving. There is no fiscal benefit to ordering from this company. You do NOT save money with them. The annoyance of never receiving what you ordered is enough to make me cancel. Also gotta love how they can charge you extravagant amounts but it takes weeks for the correct amount to be credited back to you when you never receive the products you pay for. This company is all "green" hype with no substance. This is just a marketing tactic to get gullible hippies to think they're doing something."
–D Run, April 2021, Trust Pilot
"I don't know who is rating this company so poorly, but y'all… They're attentive as all get out! I genuinely think nobody speaks up about their issues, because THE MINUTE I mention is a concern, it's immediately solved by the next shipment & I'm honestly in awe of them as a company! I sincerely hope it's not just my area because I'm moving soon! Haha. Anywho, at least in Santa Barbara County, this company is perfectly efficient & I get SO excited for my shipment every week! Thank you guys for being so amazing & for introducing me to some of THE coolest & most sustainable brands out there. Keep rockin it!"
–Sadie M, April 2021, Trust Pilot
How Grocery Delivery Works
Each of the grocery delivery services we've told you about vary in terms of how to use them.
Most, however, require you to sign up for the service or download an app. YOu will then place your grocery order for a local grocery store directly on the delivery service's app or website. A personal shopper will receive the order, shop for it, and then deliver it right to your home.
Choosing a Delivery Service
There are several considerations to keep in mind when you're trying to choose the right grocery delivery service.
Of course, some of the options we've told you about might not be available in your area – if you live in a rural location, your options might be limited, so you'll have to go with whatever you can find.
However, you'll also want to consider delivery fees and minimum order amounts. Once you've decided on a service, try to stick with it for the long haul – this can help you save money, as most membership options are more affordable the more times you use them.
Consider other factors when making your decision, too, such as customer service, the quality of the shoppers, and the amount of time it will take you to receive your order.
Tips to Save Money With Grocery Delivery Services
Grocery delivery can be expensive – fortunately, there are a couple of easy ways to save.
Search for "[Company] Deal"
One of the easiest ways to save on grocery delivery is to just Google the name of your company followed by the word deal.
Often, this will bring up a page that will give you a certain amount of money off your first order. Other times, you might receive a coupon code for later use.
Get Referred
Of course, the most common way that people save money on grocery delivery is by being referred. Any of the grocery delivery services we mentioned above have referral programs in which the referrer gets a referral fee and you, the referee, get a discount on your first order.
Sure, this is a one-time only fee – but the more people you refer later on, the more money you can save, too!
Conclusion
For many people, the idea of grocery shopping is not appealing. It can be hard to make it out to the store and back home again with everything that needs to be done on a daily basis.
For seniors, this task becomes even more difficult as they are often unable to drive themselves or find a ride when needed. Grocery delivery services are an option for those who want someone else to do all of the work while they sit at home and relax in their favorite chair.
What more could you possibly want? Consider these options for grocery delivery for seniors and you can get your grocery shopping done from the comfort of your own home.
Back to Blog