Top 10 Vacations For Seniors Who Don't Want To Walk Much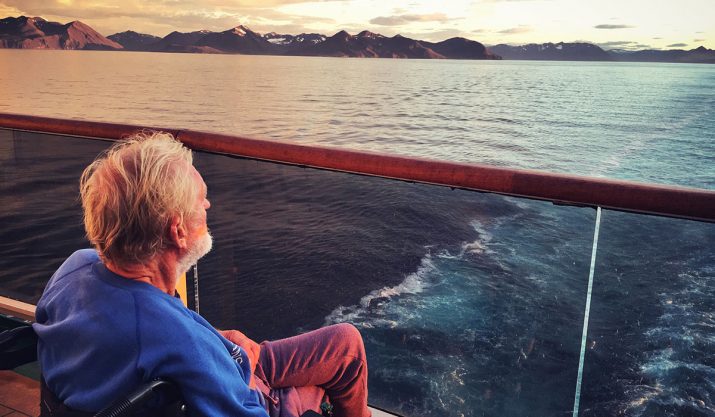 Now that you've retired, it's time to start exploring the world! Unfortunately, the ultimate irony of retirement is that although you now have all of this spare time on your hands to explore, you don't have quite as much mobility as you did in the past.
While it's true that some cities and types of vacations are not ideal for individuals who have a bit more trouble getting around – now is probably not the time to go on a scenic rainforest hike – the good news is that there are all kinds of vacations you can choose from that will not require you to walk that much.
The sad reality is that people who have mobility issues travel far less than those without – research conducted by the Open Doors Organization reported that people with mobility issues and diabetes travel about once or twice every two years. The average American, on the other hand, traveled at least five or six times every year.
Don't let poor mobility stop you from seeing the world!
A majority of people will never have to worry about how to handle a vacation with mobility issues, but for those that do, this post is for you. If you are looking for a place where you can enjoy your time and still feel like it's an easy task to get around then consider visiting one of these amazing destinations!
Top 10 Vacations (and Tips!) for Senior Citizens With Mobility Issues
Have mobility issues? Don't worry for a second. These vacations are ideal for people who have trouble getting around.
1. Consider a Cruise
With the world opening back, cruise ships will be the perfect way to get some much-needed fun and relaxation. Cruise ships aren't just popular because they're all-inclusive – they're popular because they make it easy. You won't have to worry about walking ten blocks to get to the restaurant for dinner. Getting to the restaurant on the top deck may be as simple as taking the elevator.
Cruises offer all kinds of attractions right on board, helping you save both time and money. They also make it easy for you to get to those attractions since cruise boats already have elevators and wheelchair ramps built right in.
If you're thinking about going on a cruise, look for an accessible stateroom. These often offer larger doorways, lowered closet rods, and a decent area to turn a wheelchair around. Plus, the restrooms are usually equipped with accessible resources, too, like grab bars and handicap-accessible showers.
Just double-check with the cruise line ahead of time to make sure you get the features you want and need. Check out this article by Cruise Hive to see when each cruise line plans on resuming.
2. Rent an RV or Camper Van
If the idea of the inclusivity of a cruise appeals to you but the idea of being on the open water makes you a little – well, seasick! – then you might want to consider renting an RV or camper van.
Before you think to yourself, "well, that would be great – if I wasn't in a wheelchair!" take a moment to consider this. Lots of RV and camper van rental companies offer accessible rentals that allow you to enjoy nature without having to worry about how you will get around.
There are all kinds of online search engines, like this one from Outdoorsy, that will allow you to search for an RV with ADA-accessible options. You can also contact the RV owner if you're going through a rental company to ask any questions you might have about certain accommodations.
What to look for when renting an RV? You'll want many of the same features you searched for when looking for a cruise – but you might also consider things like specialized wheelchair lifts, tie-downs for wheelchairs, and cabinets that can be reached from the seat of a wheelchair.
3. Stay with Friends and Family Members
If you're still nervous about being able to get around while on vacation, you might just want to consider staying with friends and family members. Although their homes might not have exactly everything you need, there's a good chance you'll be far more comfortable asking them for what you need – rather than a stranger at a hotel.
Plus, they'll be able to help you get around to local attractions, restaurants, shops, and anywhere else you might need to go.
4. Book a Vacation Package
Sometimes it can be far less stressful to just book a vacation package – in which itineraries are already made for you, requiring you to do zero research – than to plan a vacation from scratch. While many tour companies offer limited packages for people with mobility issues, there are some that offer sizable selections of vacations, allowing you to explore anywhere from California to the mountains of Rwanda!
These trips, though different in their destinations and itineraries, have one major thing in common. They take into account the need to adapt activities so that people with limited mobility can enjoy the same experiences that able-bodied travelers can. You can even tour popular destinations like Hawaii or various national parks! Senior travel doesn't have to be limited in the slightest.
While you still may find it easier to book these vacation packages with a friend or family member who doesn't have trouble getting around, the accommodations for these tours are still often set up so that you can get around just fine on your own. Many include detailed health assessments before departure and offer one-on-one assistance so that you can get help during various excursions and activities.
5. Get an Elevator
Here's a simple tip for booking a vacation if you have mobility issues – make sure your hotel is equipped with an elevator! Nowadays, just about all businesses have to offer an elevator or similar handicap accommodations for people who are restricted to wheelchairs. However, there are some historic hotels or older lodgings where this may not be the case.
Make sure you do your research – and call ahead to make sure the elevator is in working order before you arrive. Nobody likes surprises – at least, not these kinds of surprises.
6. Avoid Long Walks and Hikes
This one might sound obvious, but sometimes it might slip your mind, especially when you're booking a tour package or traveling with many other able-bodied companies. Do some research ahead of time to make sure you aren't going to have to do a lot of walking.
That doesn't just include the walking you might do at various attractions. It also includes walking in an airport, to and from restaurants, and other tasks that are difficult to avoid – but challenging to navigate if walking is difficult for you. Whenever you're planning vacations for senior citizens with mobility issues, the key is to plan, plan, and then plan some more – and make sure those accessibility issues are taken into account.
7. Rent a Wheelchair or Walker
It's easy enough to bring a walking cane on an airplane – but what about a wheelchair?
Renting a wheelchair or walker requires some advance planning and it can be challenging when you're traveling out of town. However, it's a good resource to tap into, especially if you are flying. The same goes for renting other kinds of mobility devices that you might need.
There are all kinds of wheelchairs you can rent, from motorized to nonmotorized as well as those that are specialized with things like additional back support. Ultimately, you should be able to find any kind of wheelchair you need by checking at all of your stops along the way.
Most airports offer wheelchair rentals via airport guest services, as well as through the airline. Sometimes you can even request an escort to help you get around. This often requires a fee but if you can provide verification of a disability then that fee is often waived.
Similarly, you can check with your hotel, spa, resort, or vacation rental to see if there can be a wheelchair waiting for you when you arrive. Many tourist destinations, like museums and amusement parks, offer rentals, as do travel agents who can make sure all of your accommodations are taken care of ahead of time.
8. Bring Snacks
While it would be nice to be able to bop around easily at all of your favorite restaurants while you're on vacation, the reality is that you're often going to have to wait for a table if you need one that's wheelchair-accessible. Most restaurants don't have quite as many of these tables as they do of their other arrangements.
You might also find yourself in a situation where it wouldn't make sense to travel to get food – you might be at the airport and be a decent walk away from the closest eatery. This is when bringing snacks makes a lot of sense.
Rather than wasting energy on getting to the eatery all the way across the airport terminal (which is also going to take time, something you might not have a lot of if you're waiting for a flight), you can snack on a bit of trail mix, fruit, or your other favorite kinds of snacks until finding a restaurant is more convenient.
9. Go With a Tour Company or Travel Agency That Offers Accessible Transportation
Again, if you're looking for a more inclusive solution, you might want to consider booking with an accessible travel agency or disability tour provider. These specialize in wheelchair-accessible vacations just about everywhere in the world.
Wheelchair Escapes, for example, is a travel specialist that has decades' worth of wheelchair travel experience and can help you book a customized vacation wherever you'd like – from Mexico to Alaska, the Mediterranean to Scandinavia. This way, you won't have to worry about arriving at your dream travel destination – only to find out that you can't do any of the things you'd planned because they are not compatible with your mobility issues.
10. Choose Accessible Cities
Looking for cities that don't require that much walking? There are plenty of places you can travel to that are great for people who don't want to do a ton of walking – or for folks who are in wheelchairs. Many cities have extensive trolley systems you can use, too.
These cities offer the best, most ADA-compliant facilities and accessible resources. You might consider going to:
Las Vegas, Nevada
Washington, D.C.
San Diego, California
San Antonio, Texas
Los Angeles, California
Phoenix, Arizona
Daytona Beach, Florida
Philadelphia, Pennsylvania
Conclusion
No matter what your mobility issue might be, there's no reason why limited mobility has to keep you stuck at home. Travel is a great way to improve your quality of life – and to keep your mind and body active.
There are plenty of destinations for you to choose from that will guarantee a wonderful time – with limited stress about how you're going to get around.