Thousand Oaks, CA, USA
866-712-8935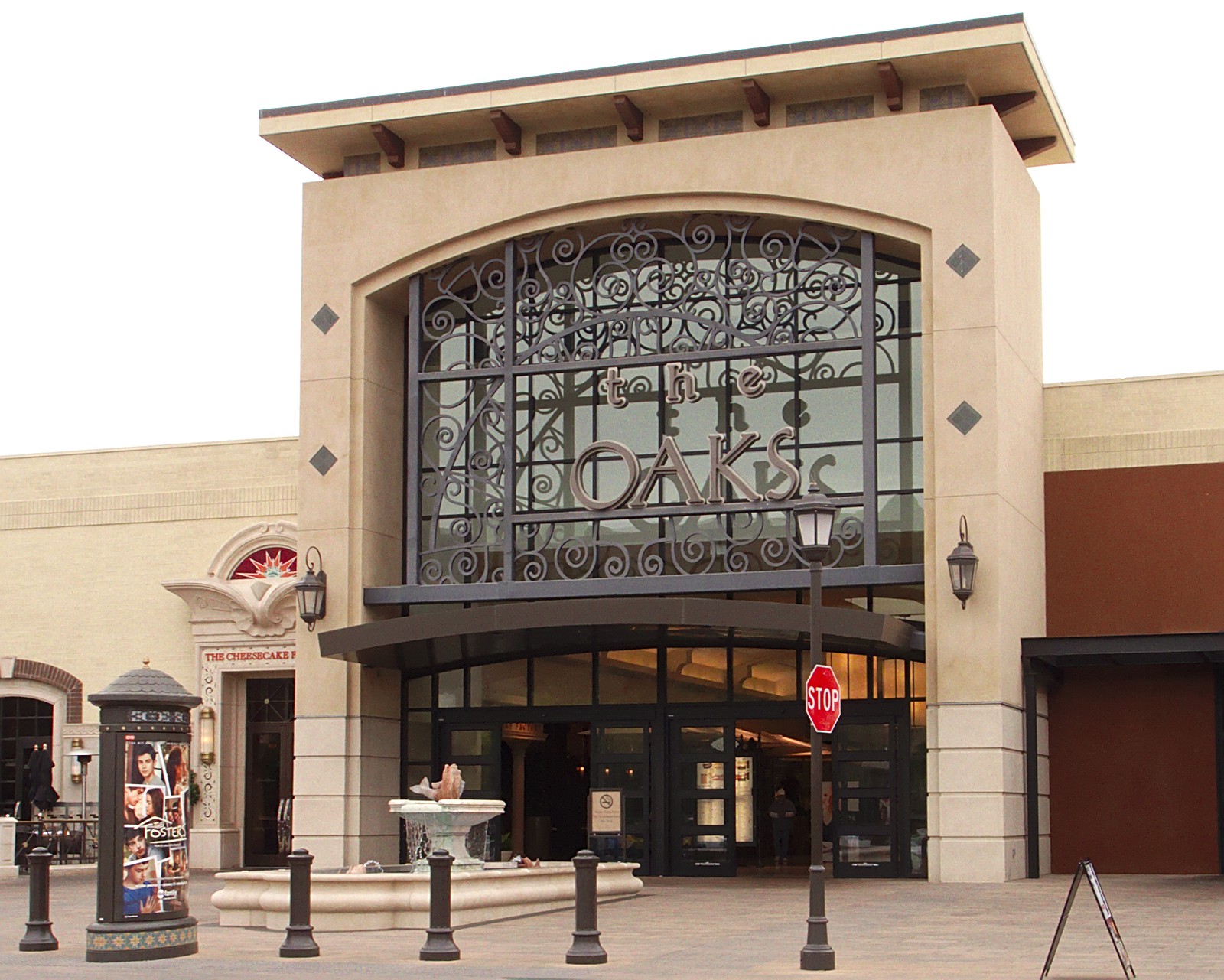 The city of Thousand Oaks has been designated as one of the safest and best cities to raise a family. Top-notch schools, parks, and a variety of shopping options make it a top place to call home.
Every technician from Thousand Oaks will provide prompt, friendly, and neighborly service. They'll be quick but thorough and leave no mess behind once the stairlift is installed.
Thousand Oaks Stairlift Pricing Tool
Answer a few quick questions to get an estimate of how much your stairlift in Thousand Oaks could cost.
Our Best Thousand Oaks Stairlifts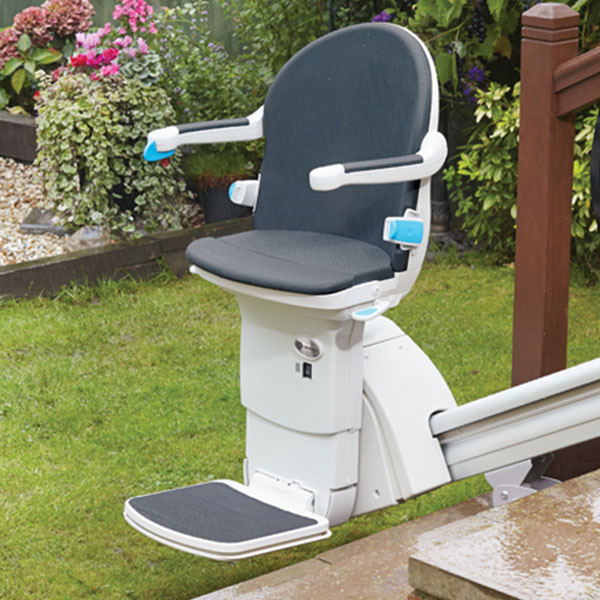 The 1000XXL is a heavy duty stairlift. Its reliability makes it one of our most popular in the Thousand Oaks area. The 1000XXL is designed to accommodate individuals who need a wider seat and adjustable seat height and can reliably carry riders who weigh up to 440 lbs.
FEATURES
Weight limit: 440lbs

Rechargeable backup battery

Fold-up seat, footrest and armrests save space for other stair users

Outside installation available

And More. Learn more about all of your straight stairlift options

.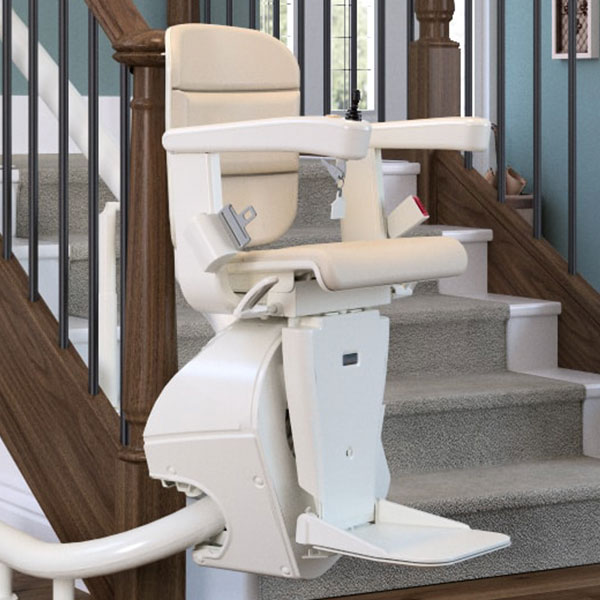 Designed for the most challenging spaces, the Freecurve's Turn and Go feature enables it to swivel the unit's seat turning the rider's knees to the side when navigating narrow passages. The Freecurve's flexibility makes it another one of our more popular options in the Thousand Oaks area.
FEATURES
Weight limit: 275lbs
Rechargeable backup battery
Swivel seat for easy on and off
Fold-up seat, footrest, and armrests save space for other stair users

And More. Learn more about all of your

curved stairlift options

.
Areas We Service in Thousand Oaks
Newbury Park
Lake Sherwood
Dos Vientos Ranch
Casa Consejo
Amber Ridge
Clara Vista
Heritage Hills
Kelly Park
Lynn Oaks
Sunset Hills
And More
Did You Know This About Thousand Oaks?
The area that is now Thousand Oaks was once inhabited by the indigenous Chumash people before Spanish explorers arrived in the area in 1542. It was taken over by Juan Rodriguez Cabrillo on behalf of Spain during the Battle of Triunfo. Thousand Oaks later became part of a Mexican land grant before being established as a Norwegian Colony in the late 1890s. Thousand Oaks was officially incorporated as a city in 1964. 
Located 40 miles away from downtown Los Angeles in Ventura County, Thousand Oaks covers an area of 55.41 square miles of land and water and has a population of 126,683, according to the 2010 Census.
The housing market in Thousand Oaks is somewhat competitive, with some homes receiving multiple offers, selling for around 1% below list price, and becoming pending in 41 days. The median home value in the city is $772,779, and the average monthly rent is $2,190. The median annual household income is $99,115. 
Thousand Oaks was once an agricultural community, but in the 1960s, tech companies began to move into the area. Today, Thousand Oaks is home to many biotech and high-tech companies, and it has been referred to as "the next Silicon Valley." Other prominent industries in the city include electronics, automotive, aerospace, financial, healthcare, and telecommunications. 
Major employers in Thousand Oaks include Amgen Inc., The Oaks Shopping Mall, Conejo Valley Unified School District, Los Robles Hospital and Medical Center, Anthem Inc., California Lutheran University, Shire, Skyworks Solutions Inc., PennyMac Loan Services, and Sage Publications Inc. 
With hot, dry, sunny summers and mild winters, Thousand Oaks has a hot-summer Mediterranean climate. The average annual rainfall in the city is 18 inches, which is much less than the national average of 38 inches. 
Quirky or Interesting Facts about the city, arts and culture, museums, outdoor activities, festivals, events, attractions, etc. 
Thousand Oaks offers a variety of rich arts and cultural experiences, which are celebrated at museums in the city. The Conejo Valley Art Museum features modern art, abstract art, sculptures, and textiles. The Chumash Indian Museum, located on the site of a former Chumash village, includes a replica of a Chumash village, historical artifacts, and a 432-acre park. Other museums include the Stagecoach Inn, the California Museum of Art, and the Grant R. Brimhall Library, which celebrates the history of radio. 
Theatres in the city include the Fred Kavli Theatre, the Ray Scherr Forum Theatre, the Conejo Players Theatre, and the Hillcrest Center for the Arts. Well-known musicians and entertainers, such as Willie Nelson, Paul Anka, Kris Kristofferson, and Vince Gill, have performed in the city. 
Annual events include Conejo Valley Days, which features a carnival and occurs in the Spring, and the Scandinavian Festival, which features food, live music, folk dances, and art from the Nordic countries of Norway, Iceland, Sweden, Denmark, and Finland.
Request a quote