Danville, CA, USA
(866) 712-8185
With top-notch schools, safe neighborhoods, and beautiful homes, Danville is a highly desirable place to put down roots. Family-friendly events such as the annual Fall Crafts Festival and plenty of opportunities for recreation are features of this affluent town.
Every technician from Danville will provide prompt, friendly, and neighborly service. They'll be quick but thorough and leave no mess behind once the stairlift is installed.
Danville Stairlift Pricing Tool
You're just a few clicks away from receiving your FREE Danville stairlift estimate! Begin your estimate below.
Our Most Popular Danville Stairlifts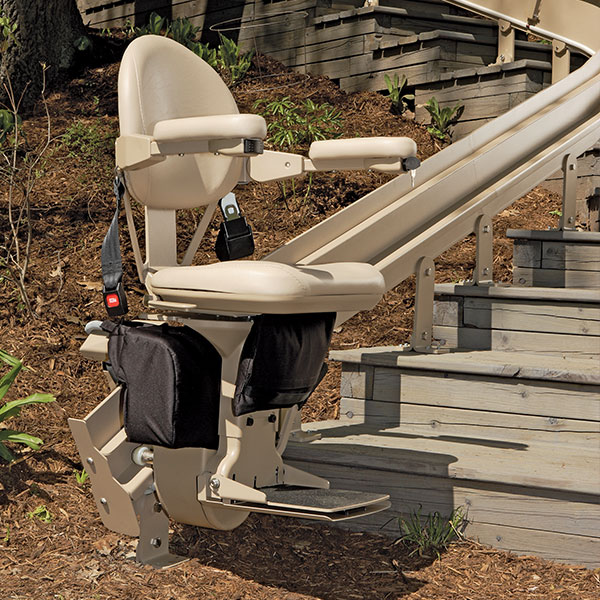 Each Bruno Elite CRE 2110-E is designed to fit the exact contours of the home where it is installed. The Bruno Elite CRE 2110-E is one of the most popular in the Danville area thanks to its weather-resistant design and durable outdoor paint.
FEATURES
Weight limit: 400 lbs

Waterproof cover can move with chair for all weather protection

Equipped with wireless send/call controls

Tested for performance at 0-125 degrees F
And More. Learn more about all of your curved stairlift options.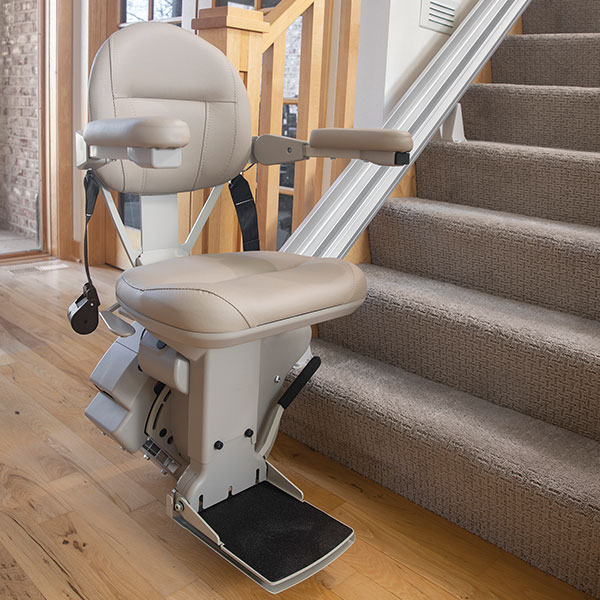 If you want a stair lift that will ensure comfort and easy access, the Bruno Elite SRE 2010 is the one to consider. It is not only attractive to look at, offering a stylish design that's sure to blend with your home's unique aesthetic, but it is simple to use with its control on the armrest and two wireless remote controls. With its many fabric and color options, plush padding, and larger seat and footrest, it's the go-to for many of our Danville area customers.
FEATURES
Weight limit: 400 lbs

Plush seating makes for an extra comfortable ride

Comes with obstruction sensors for added safety 

Can be controlled by wireless call/send or chair arm controls 
And More. Learn more about all of your straight stairlift options.
Danville Neighborhoods We Service
Alamo Creek
Anderson Ranch
Belleterre
Blackhawk
Culet Ranch
Country Estates
Glenwood
Rose Garden
Sycamore
And More
How Well Do You Know Danville?
The area that is now Danville was once home to Native Americans before becoming part of a Mexican land grant. The area then became a farming community, and in 1891, the Southern Pacific Railroad developed a spur line through the area. By 1947, Danville had become a residential suburb, and it was officially incorporated as a municipality in 1982. It is referred to as a town, rather than a city. 
Located in the San Ramon Valley and 43 miles north of San Jose in Contra Costa County, Danville covers an area of 18.08 square miles and has a population of 42,039, according to the 2010 Census. 
Danville has one of the most competitive housing markets in the area, with most homes receiving multiple offers, selling for 2% above list price, and becoming pending in nine days. The median home value in the town is $1,128,502, and the average monthly rent is $2,353. The median annual household income is $140,616. 
Danville has a Mediterranean climate. Its summers have hot days and cool nights, and its winters are cool. The average annual precipitation in the town is 25.14 inches, most of which occurs from October through April.                                     
Danville's history is on display at the Eugene O'Neill National Historic Site, which was built by O'Neill, a winner of the Nobel Prize for Literature. The home features Asian art and décor, Chinese guardian statues, and Chinese lacquerware furnishings. It has been declared a National Historic Landmark and a National Historic Site. 
History buffs will enjoy the town's Blackhawk Museums. This is a group of museums that is dedicated to preserving classic and unique cars. Exhibits include the work of the Wheelchair Foundation, American jukeboxes, antique gas pumps, and historical artifacts. 
Danville is home to several parks and recreation areas. The Sycamore Valley Open Space Regional Preserve is located on two ridges among rolling hills south of Mt. Diablo. This preserve features scenic trails and large areas of open grasslands, mature woodlands, and many types of wildlife, including Northern Pacific rattlesnakes, acorn woodpeckers, Western bluebirds, Pacific tree frogs, striped skunks, great blue herons, and loggerhead shrikes. 
The town's Recreation, Arts & Community Services Department also offers a variety of programs, classes, summer camps, and athletic activities, as well as community parks that provide picnic areas, playgrounds, and sports fields. 
Danville's annual Fall Crafts Festival features the work of 200 artists and craftsmen, including photography, jewelry, painting, leather crafts, and woodworking. It also includes a classic car show, live entertainment, food, and beverages. 
The town also hosts Hot Summer Sunday's Car Shows, which feature classic cars, live music, family activities, and food. This event takes place on specific Sundays every year.
Request a quote