Union City, CA
310-773-4689
With excellent educational institutions, a high standard of living, a strong economy, and a world-renowned location, Union City is a coveted place to do business, work, and live. 
Every technician from Union City will provide prompt, friendly, and neighborly service. They'll be quick but thorough and leave no mess behind once the stairlift is installed.
Union City Stairlift Pricing Tool
You're just a few clicks away from receiving your FREE Union City stairlift estimate! Begin your estimate below.
Our Most Popular Union City Stairlifts
For those of you who are not interested in cookie-cutter designs, Bruno Elite CRE 2110 may be for you. It's Bruno's signature stairlift, built to your specific needs, customized for the unique design of your home. The Bruno Elite's flexibility makes it one of our most popular stairlift options in the Union City area.
FEATURES
Weight limit: 400 lbs 

A comfortable, generously sized, adjustable chair

A vertical rail made to measure maximizes space

Armrest control moves stairlift up and down
And More. Learn more about all of your curved stairlift options.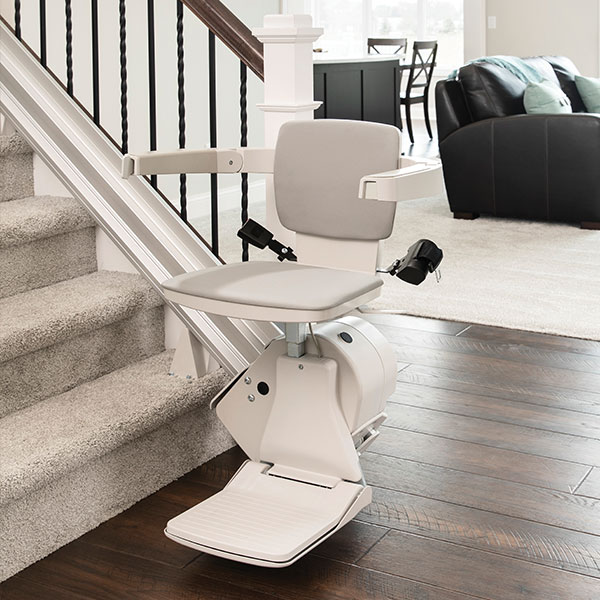 Bruno's best selling, American-made straight stairlift – the Elan SRE 3050. The Elan blends style and functionality for a stairlift that is remarkably easy to use. It has a narrow vertical rail design that makes it perfect for narrow, high-traffic stairways. There's plenty of room to get around this lift when it's installed. Incorporating updated technology, styling, and ergonomic features, this chair lift is the first choice for homeowners in the Union City area who value both form and function.
FEATURES
Weight limit: 300 lbs

Exceptional comfort from an adjustable, plush seat

Stairlift glides smoothly up and down with armrest controls 

Seat can swivel 90 degrees at the top landing
And More. Learn more about all of your straight stairlift options.
Areas We Service in Union City
Brookstone
Cambridge Way
Contempo
Fair Ranch
Foothill Glen
Goodhaven
Logan
Park Ridge
Ponderosa
And More
How Well Do You Know Union City?
The area that is now Union City was once home to indigenous coastal people (Costanoans). Established as a city in 1850, Union City became a hub for steel production and the railroad, making it an industrial town. It became officially incorporated as a city in 1959. 
Located in the San Francisco Bay area and 20 miles north of San Jose in Alameda County, Union City covers an area of 19.22 square miles and has a population of 69,516, according to the 2010 Census. 
The housing market in Union City is one of the most competitive in the area, with most homes receiving multiple offers, selling for 3% above list price, and becoming pending in 11 days. The median home value in the city is $853,355, and the average monthly rent is $2,419. The median annual household income is $105,448. 
Several industrial and shipping companies contribute to Union City's economy, including RCD Concrete, Jatco, R&S Manufacturing, and EntirelyPets. 
Major employers in the city include New Haven Unified School District, Southern Wine & Spirits, Walmart, the Masonic Home for Adults, Abaxis, Mizuho OSI, Sterling Foods, the City of Union City, Emerald Packaging, and American Licorice. 
Union City has an average of 265 sunny days per year, which is more than the US average of 205 days. The city has an average of 64 rainy days per year, and the average annual precipitation is 17 inches. The average high temperature in July is 76 degrees, and the average low temperature in January is 43 degrees. 
Union City was once home to the California Beet Sugar Company, which was the first sugar beet factory in the country. This facility is now a California Historical Landmark. 
The Union City Historical Museum serves to preserve the history and architectural legacy of the city, and it features a variety of historical documents, books, artifacts, and educational programs. 
The Bay Area Flight 93 memorial is a monument in Sugar Mill Landing Park. It serves as a memorial for the passengers and crew on Bay Area Flight 93, which was headed to San Francisco when it was hijacked and crashed into a field in Pennsylvania on September 11, 2001. 
Located in Union City, Dry Creek Pioneer Regional Park features multiple hiking trails that offer scenic views, rolling hills, and opportunities to view grazing cattle and wildlife. This park shares a border with its sister park, Garin Regional Park. There are also several other parks in the area that offer a variety of amenities, including playgrounds, picnic areas, and sports fields.
Request a quote